Estimated read time: 2-3 minutes
This archived news story is available only for your personal, non-commercial use. Information in the story may be outdated or superseded by additional information. Reading or replaying the story in its archived form does not constitute a republication of the story.
Ashley Hayes ReportingA new type of treatment is available at the Davis Hospital Wound Center.
Last month the hospital started offering hyperbarics therapy, which helps treat a range of conditions from carbon monoxide and cyanide poisoning to diabetes.
This hyperbarics center is the northern-most hyperbarics facility in Utah. Before last month, patients needing treatment had to drive in to Salt Lake City or go out-of-state to Idaho.
It's a noninvasive treatment that requires patients to go under pressure for hours at a time.
There's not one breath Gary Peterson takes for granted. Two hours a day, five days a week, for two months he spends inside a chamber breathing concentrated amounts of oxygen needed to heal his bladder.
"I got cancer of the prostate and I had radiation on it. The radiation burned my bladder real bad," he said.
Dr. Tommy Love explained, "Over teh last several years he has developed large sores in his bladder which make urinating difficult. It makes everyday living very difficult."
Peterson continued, "It just hemorrhaged. So the doctor said, 'You have two choices. Either the hyperbarics or have your bladder taken out.' So of course I took the hyperbarics."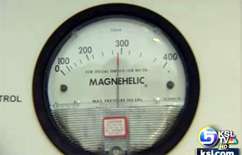 Dr. Love said, "His life is much better. His quality of life is much better because of his treatment here."
Peterson says the treatments are painless. "I don't feel any different. It doesn't energize me. All the good things are on the inside."
Dr. Love says much like Coca-Cola, which is bottled under pressure so the carbon dioxide gas dissolves into the liquid, hyperbarics works by forcing oxygen into the body and the tissues that need it most.
He explained, "We're 85 percent water. So that's how we can dissolve oxygen into the body."
By adding oxygen, hyperbarics therapy can save diabetic patients' limbs, stop flesh-eating bacteria, and rehabilitate poison victims.
Peterson said, "Once you get down to depth of 45 feet then there's no problems."
It's all smooth sailing for Peterson, who takes the pressure sitting back and drifting off to an old favorite, "Victory at Sea," or for Peterson, "Victory below sea?"
Dr. Love says many patients and their doctors are not aware of how many conditions can be treated with hyperbarics.
×
Related links
Most recent Utah stories