Estimated read time: 2-3 minutes
This archived news story is available only for your personal, non-commercial use. Information in the story may be outdated or superseded by additional information. Reading or replaying the story in its archived form does not constitute a republication of the story.
The exciting week just continues in Provo, as this morning at Riverside Country Club, most of BYU's eight All-America QBs gathered as part of a fund-raising effort that will endow QB scholarships at BYU and help to build a statue of LaVell Edwards to sit outside the stadium that bears his name.
*******
Virgil Carter, Jim McMahon, Marc Wilson, Steve Young (a late arrival due to travel delays), Robbie Bosco and Gifford Nielsen joined Edwards this morning, with Ty Detmer expected tomorrow, as he is coaching a high school football game in Texas tonight. Steve Sarkisian and his Washington Huskies arrive in town later today.
*******
You can hear interviews with McMahon, Young, Carter and opening comments from Edwards by clicking on their interview links in the "Cougar Cuts" box.
McMahon talks about his decision to get his degree at BYU, which would make him eligible for the BYU Hall of Fame.
Young talks about BYU's independence and how Utah leaving for the Pac-12 left BYU almost no choice but to strike out on its own.
Carter talks about being one of the original "West Coast Offense" quarterbacks in the NFL, thanks to his days at BYU.
Edwards has some great stuff, delivered as only LaVell can deliver it.
I encourage you to have a listen; great stuff from everyone. Young, in particular, talks about how people at ESPN "love BYU," and how that "great friendship" was developed over 30+ years of BYU Football's performance and presence.
*******
It's a big weekend for BYU fans and the former Cougar quarterbacks, but it's also a big recruiting weekend for BYU Basketball.
On a week when the men's hoops program changed leagues (from MWC to WCC), one of the Cougars' top targets is in town and will be at the Saturday football game. Aware BYU supporters in the stands will want to make Damarcus Harrison feel at home.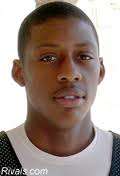 As I tweeted yesterday, it looks like it is down to BYU, Clemson, Florida State, and Marquette for Harrison, a 6'4", 170 lb. shooting guard from Greenwood, SC.
Harrison will this weekend be making his first official visit to BYU. He has unofficially visited Clemson and is planning on taking an official visit there.
Interestingly, Harrson will visit Florida State the same weekend the BYU Football team plays the Seminoles in Tallahassee. He is also planning a visit to Marquette in September, and is expecting to make his college choice before the early signing period.
Here is a short clip deonstrating Harrison's athleticism during his sophomore season. The video notes "Class of 2010"; he is actually part of the Class of 2011.
*******
×
Most recent Sports stories