Estimated read time: 2-3 minutes
This archived news story is available only for your personal, non-commercial use. Information in the story may be outdated or superseded by additional information. Reading or replaying the story in its archived form does not constitute a republication of the story.
Paul Nelson, KSL NewsradioSome Utahns are using a new way to make some very real money online. It's through an interactive online world called "Second Life."
Musician Kurt Bestor is playing a real concert for real fans. "Hey everybody. Welcome to Phang Nga Bay," Bestor says. However, Phang Nga Bay is not on some remote island in the Pacific Rim, it's in his basement, and this concert is in the world of "Second Life." "I might make a couple hundred dollars for an hour," Bestor explains. "No, that's not bad, but it's not like doing a normal gig."
Even though it looks like his little, digitally animated character is throwing this show, he's really playing the music, live. And, yes, he's making real money, but he says this virtual world is an extremely effective marketing tool.
"I've got fans from Norway, from Germany [and] here in the States. Not a lot from Utah, actually," Bestor says. "I got contacted by someone from the Hillary Clinton campaign that wants me to appear at a fundraiser in Second Life for her."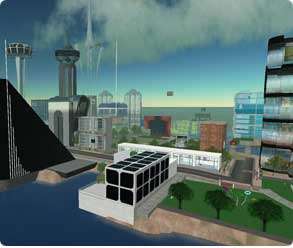 But, making this digital self isn't necessarily free. You've got to pay if you want to look cool. "Everything I'm wearing, the jeans and the groovy shirt, I purchased on second life," Bester says. When asked, "You spent real money on this?" he replies, "Well, I've made money, and I spend the money I make."
Bestor says if you're not careful, you could lose hours on this kind of site. "You run across people and you can tell they have long since forgotten that they are a 400 pound guy in his underwear down in his basement," Bester warns.
It is this forgetting of reality that has some addiction counselors concerned. "If there's an avoidance or some sort of resistance to other types of social behavior, then there's a problem," says Institute of Change Operations Director Frank Roberts. He says addictions are commonly fueled by some sort of perceived personal flaw, boredom or depression.
There are a few warning signs people should look for. Roberts asks, "Is it getting in the way of other things that are healthy to do? Are you using it to change the way you were intended to feel? Are you avoiding communicating with people?"
Roberts is not saying you should avoid sites like "Second Life" or Zwinky. He just says you don't want to let yourself become that 400 pound guy in his underwear.
×
Most recent Utah stories