Estimated read time: 5-6 minutes
This archived news story is available only for your personal, non-commercial use. Information in the story may be outdated or superseded by additional information. Reading or replaying the story in its archived form does not constitute a republication of the story.
What a great day and night Wednesday on the BYU campus. For me, the day began with coverage of BYU's Football independence and WCC affiliation/ESPN-Notre Dame agreements. The press conference at LaVell Edwards Stadium was momentous, and signaled a new era in BYU Athletics. September 1, 2010 will remain an important date in the school's history.
After wrapping up the reporting of that huge story, it was over to the BYU Football complex to join Marc Lyons and Scott Johnson as we continued our game prep for this Saturday's season opener with Washington. Scott is going to be a tremendous addition to the broadcast team; the guy knows his football, loves BYU, and is excited to get on the air with us.
Then, I headed back to the stadium to prepare for a new season of "BYU Football with Head Coach Bronco Mendenhall", Presented by Ken Garff University Parkway Dealers. The show has a new look and feel this season, originating live from the President's Loge at LaVell Edwards Stadium. Seats are by request, and the response for seats has been overwhelming. I encourage you to visit the show link above and get your request in soon; the entire season of shows will soon be filled up.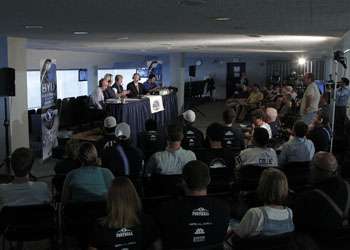 The weekly broadcast will feature BYU Football's core values of "Tradition, Spirit and Honor" and will include live interviews with a former Cougar and a current player, in addition to Bronco Mendenhall. The objective is to bring you a football show that gives you something more, and I hope you enjoy the new format and find a way to join us at the stadium sometime soon. Everyone who attended last night had a great time, and I know Bronco was gratified by the response and impressed by the environment.
*******
Last night's special guests were BYU AD Tom Holmoe and team captain Andrew Rich. On last night's debut broadcast, talk of BYU-UW was somewhat overshadowed by news of BYU's "Independence Day."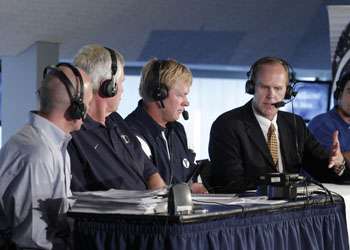 Here are some highlights from last night's broadcast; to listen to the entire show, you can click on the archive link on the show page, or listen to the link in the "Cougar Cuts" box above.
*******
Bronco--
On football independence: "It's a special day. It has been a painstaking process of growing and fighting and continuing to improve our program to the point where were doing some things that haven't been done in the program before. What that has done is leveraged us for marketability to the best exposure providers in the world, in ESPN. In addition, it has leveraged a chance to play teams nationally who really want to play BYU, who know that our following will fill their stadium."
Mendenhall then noted that the season opener between TCU and Oregon State in Cowboys Stadium has some 35,000 tickets still available, whereas BYU-Oklahoma sold out the stadium a year ago. "Our BYU fans are just phenomenal."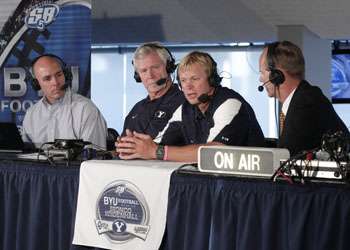 On BYU Football's potential: "As long as I continue to do my job, and the players continue to perform at a very high level, you're talking about a chance to move the program to exceed any level it has ever been in terms of exposure, credibility a worldwide following. That is very exciting."
On the three keys to beating Washington: "First, doing our best to control Jake Locker. Second, we have to win field position through special teams. We have a youthful team, and if we don't control field position, we might not be capable...of managing points on either side. And third, we need to plan accordingly for our young quarterbacks..and put them in positions that they're capable of handling with the decisions and plays that give them their best chance to perform."
*******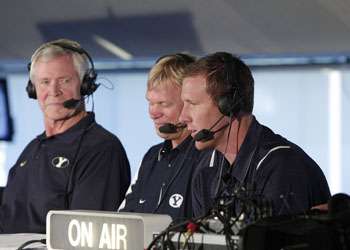 Tom Holmoe--
On football independence being traced to BYU's 'Tradition': "This day would not be possible if it wasn't for Coach LaVell Edwards and the players and teams that he had, then Coach Mendenhall (and his teams), to carry on that tradition for so many years to the point where ESPN... (is) in a position to say 'BYU is the one we want to go with.' I just defer to years and years and decades of great play which we're continuing today with Coach Mendenhall and his teams."
On BYU's ability to schedule national "name" teams: "Coach Mendenhall and his staff and team have earned the respect, where now those teams are saying 'come play.' They won't play (just) anybody. There's something about this program that they like."
On BYU supporters being part of BYU's 'Band of Brothers': "The fans feel like they're in it. Bronco has communicated to everybody: 'you're part of the team.' Our players and coaches know there's an army of BYU fans that are behind our team."
*******
Andrew Rich--
On the season opener with Washington: "I've had a tough time sleeping just because I'm so excited about what's going to take place. I'm looking forward to Saturday; I love our team, I love the way that our guys play. I think it's a special team; it's different, it's unique. Washington is a great team; they have some great players. It's definitely going to be a battle and a good game. I'm looking forward to being a part of it."
*******
Don't forget to arrive early for BYU's Saturday season opener. I-15 construction and a new BYU parking pass system may delay your arrival at the stadium, so plan ahead.
One of BYU's eight former All-American quarterbacks will be "Lighting the Y" before the game, then at halftime, the festivities tied to "Y Quarterback Weekend" are bound to be memorable.
*******
Don't forget to follow me on Twitter: twitter.com/gregwrubell; we're approaching the 2,000 follower mark. I can't keep adding a thousand followers a month, but it has been fun to see so many fans coming along for the ride as I fire off "quick hits" on items of interest to Cougar backers. Thanks again for the support, and for helping to set a new record for page views at "Cougar Tracks."
The previous single-month record was 313,556 (set in August 2009). August 2010 saw that record jump by 46% to 457,480. Thanks to all of you for reading!
*******
×
Most recent Sports stories