Estimated read time: 2-3 minutes
This archived news story is available only for your personal, non-commercial use. Information in the story may be outdated or superseded by additional information. Reading or replaying the story in its archived form does not constitute a republication of the story.
Amanda Butterfield Reporting People who live and work in the area say crime is rampant in Salt Lake's Pioneer Park. Over the weekend, a homeless man was brutally beaten there for the prescription pills he was carrying.
The city knows the park is a magnet for criminal activity but is boldly predicting that a year from now, Pioneer Park will be a place where people will want to bring their families. That's because Mayor Rocky Anderson's plan to upgrade the park should soon bring changes you'll start to notice.
The mayor's vision for the park comes in three stages. In the first stage alone, the city hopes $1 million in renovations will transform this now "scary" place into a family-friendly park.
It's rare to find little kids playing at Pioneer Park, or anyone out playing catch on the grass. But you will find drug use, drug deals and crime. Our Investigative Team proved that back in 2005. At that time, our reporter asked a man about heroin in the park. He replied, "I don't know, unless you've got some money to give me."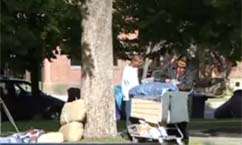 The police department responded with increased patrols. But today, nearby businesses say there's been no change, and it's even gotten worse.
Matt Caputo of Tony Caputo's Market and Deli told us, "Some of the things we've started to see in the past months are the drive-up drug deals, people literally making hand-offs in broad daylight."
This may be the last summer of that, because starting this fall, stage one begins in redeveloping the park.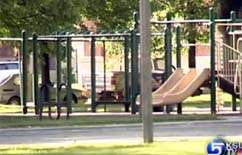 The communications director for the mayor's office, Patrick Thronson, says, "We're going to have a walking and fitness trail."
There will also be a dog park, a promenade, more sidewalks and benches -- a total of $1.1 million worth of improvements.
"It's going to add a lot of improvements down there," Thronson predicts.
It's Mayor Rocky Anderson's plan. He's out of town, so Thronson talked to us. "The key to changing Pioneer Park is to open it up to uses with the community," he says.
But there are two more stages to Rocky's plan that the city council has not approved.
Council member Van Turner, from District 2, told us, "Not everyone had bought into Rocky's plan. We've had questions on it, and the cost of it has escalated on even the first stages."
So a consultant will be hired to scale back stage two and three, which included adding a cafe, more restrooms, another playground, and historical monuments.
But keep this in mind: This is Mayor Anderson's last year in office, and then the future of the park will be in the hands of the new mayor.
Stage one begins in October. It's scheduled to be complete by Spring of 2008.
×
Related links
Most recent Utah stories