Estimated read time: 2-3 minutes
This archived news story is available only for your personal, non-commercial use. Information in the story may be outdated or superseded by additional information. Reading or replaying the story in its archived form does not constitute a republication of the story.
Gene Kennedy Reporting Construction zones, traffic jams, and technology ringing in your ear. It's enough to make any driver stressed. So how bad is it in Utah?
A driver is on his way with the radio on, and he's doing a little texting on the side. Hopefully there's time to drive.
Trooper Preston Raban of the Utah Highway Patrol said, "We find ourselves caught up in that world, and behind the wheel it's no better."
"I've pulled people over who have said, 'I'm sorry, I was texting somebody.'"
"I find now that anyone who's under a heavy amount of stress, I feel stress will distract you from what you're doing at the time."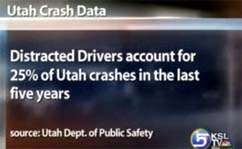 Trooper Raban considers stressed drivers in the category of distracted drivers. Distracted drivers account for 25 percent of the accidents in Utah over the last five years. That's one in four crashes. So statistically, they're more dangerous than drunk drivers.
Ambulances take accident victims to the ER every day, and inevitably doctors find out that many of these victims were just stressed out drivers or passengers. Experts say one of the big problems is that people are not having enough quiet time in their daily life.
"I see teenagers nowadays who are plugged into everything. You wonder what's going to happen to them. They have no quiet time. They're so stimulated."
Now factor in all the commuting. Reader's Digest says the average commute time for most Americans is 25 minutes. And, more than 10 million consumers drive more than an hour each way to work, many of them during rush hour and through construction zones.
Gail Hilton has studied stress for 20 years and now counsels crisis patients at LDS Hospital. She says the stress will catch up with you.
"When you're under a lot of stress your body releases hormones," she explained. "Cardosol is one of them. Adrenaline is another. If they're continually in your body, they'll attack your organs. Stress is related to cancer, heart attacks, and of course we know it causes high blood pressure."
Pressure, experts say, is manageable.
Hilton says to manage stress
Eat healthy
Eliminate caffeine
Consider taking a stress management training class
Turn the distractions off, like the stereo and your phone
×
Most recent Utah stories