Estimated read time: 2-3 minutes
This archived news story is available only for your personal, non-commercial use. Information in the story may be outdated or superseded by additional information. Reading or replaying the story in its archived form does not constitute a republication of the story.
Courtney Orton ReportingSay goodbye to those 39-cent postage stamps. Beginning today, first-class stamp prices jump to 41 cents.
There is something you can do to protect yourself from future increases. All you have to do is buy the new "forever" stamp. It costs 41 cents now, but will pay for full postage forever, even if the rates go up again.
But beginning today, first-class stamps will cost you 41 cents. So make sure you have one or two cent stamps handy to make up the difference on your 39-cent stamps.
A postal customer told us, "It's like everything else. Prices are constantly going up. U.S. stamps shouldn't be any different, I guess." Another customer, Holly Jones says, "Actually, I don't mind because the bigger picture, everyone in the world needs to make more money, all the businesses and such, it's got to go up just like anything else." Customer Jerry Beck disagrees. He says, "I think the government is making a mistake by raising it every couple of months."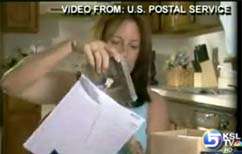 Some other changes: the pricing system will now be based on shape as well as height of the item being mailed. So, you can reduce your mailing costs simply by choosing different packaging.
The system is demonstrated in a postal service video, showing how the smaller the box or envelope, the lower the rate. For example, if the contents of a first-class mail package are laid out to fit in an envelope instead, you can save 33 cents per piece.
Consumer Affairs Manager for the United States Postal Service Ron Hubrich says, "I think a lot of people can be more creative with the way they send things. If they can fit something that maybe usually fit in a box into a larger envelope, they will save money."
The cost to mail heavier letters, like wedding invitations, is going down. Each additional ounce will cost 17 cents. That's down from the current 24 cents.
×
Related links
Most recent Utah stories