Estimated read time: 2-3 minutes
This archived news story is available only for your personal, non-commercial use. Information in the story may be outdated or superseded by additional information. Reading or replaying the story in its archived form does not constitute a republication of the story.
Samantha Hayes Reporting A young man attacks an 80-year-old Utah County man. The older fellow says he's lucky he lost his balance.
"I would have grabbed him right around the neck, and I don't know if he'd be here today or not," the victim, Jim Davis, said.
The Lindon, Utah, man never thought his age would make him an easy target. He has always taken care of himself. He was surprised he had to defend himself from someone trying to steal his wallet.
Davis is healing from his injuries. He fell down in his driveway as the younger man took off with his wallet. But Davis is also injured by the way this all happened. He thought the man was going to help him. Davis had no idea he just wanted to steal money.
Davis doesn't usually carry a lot of cash. But this week he had a special reason to.
"Just got the money out two days ago to get my wife a Mother's Day present," he explained.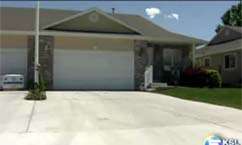 He had about $250 in his wallet when he went to buy a pizza for dinner Wednesday night. When he returned home, a young man approached him in his driveway.
Davis recounted, "He said, 'Did you leave your wallet down there?' He had a wallet in his hand. I said, 'No, I've got mine.' 'Oh good,' he said."
Davis believes the man must have spotted him while he was walking out of the store with his pizza. Davis is 80 years old and physically has a difficult time getting around. He believes that's why the man decided to take advantage of him.
But first, the man acted like he wanted to help Davis, offering to bring his trash cans into the garage.
"I thought, what a nice man," Davis said.
"I turned my back on him for just a minute, and I could feel a hand in my pocket. I took my elbow and ... I hit him pretty good because I knocked him into my car. His legs collapsed on him," Davis said.
Davis fell down, too, injuring his head, leg, and arms. The man got away with the cash.
"I never thought anything would happen like that. Never had any idea," Davis said.
Davis says he is going to be more observant now. He gave investigators a very good description of the robber and police told him they have a good lead. Davis' family is offering a reward for information leading to an arrest.
×
Most recent Utah stories