Estimated read time: 2-3 minutes
This archived news story is available only for your personal, non-commercial use. Information in the story may be outdated or superseded by additional information. Reading or replaying the story in its archived form does not constitute a republication of the story.
Ed Yeates Reporting Victims choking from smoke from a fire may now have an antidote that could keep them from dying. It's a natural form of vitamin B-12 and when given to patients has few, if any, side effects.
Chairs are comfortable in an office space, but when burning in a fire along with all the other synthetic desks, ceilings and wall decorations, the combustion produces cyanide.
In building fires, the cyanide in the smoke kills more people than burns. Dr. Lindell Weaver, from LDS Hospital Hyperbaric Medicine says, "The more time that goes by, the cyanide can get into the cells, where it's going to do its damage. And what it does is interfere with how oxygen is being used."
But now, a French study shows a natural form of the vitamin B-12 may be a very effective antidote for smoke inhalation, even for victims who've slipped into a coma. "It's got an iron and a cobalt molecule that grabs onto cyanide. So when you give this drug, it pulls the cyanide onto it, onto the vitamin B-12, and then it deactivates it and the patient ends up urinating out the cyanide bound up to this molecule," says Weaver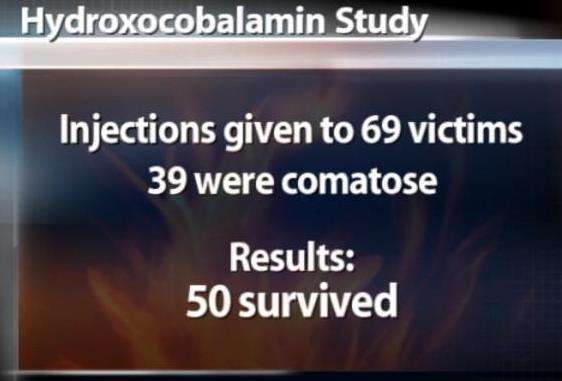 In the current French study, the B-12 derivative called hydroxocobalamin was given to 69 smoke inhalation victims, including 39 who were comatose. Out of that 69, 50 survived.
A previous study showed even better results. "I think this drug is a safer drug and probably a more rational drug than our prior therapy for cyanide," says Weaver.
Weaver says in order to counter the cyanide, the dose of Vitamin B-12 is about 5,000 times bigger than what doctors usually give.
The antidote becomes even more effective when used in partnership with hyperbaric therapy. In theory, the patient would get the antidote first for the cyanide poisoning, followed by hyperbaric therapy for carbon monoxide poisoning."
The B-12 derivative appears to work better when injected into a patient over a 15- to 30-minute interval, with additional doses as needed.
×
Most recent Utah stories