This archived news story is available only for your personal, non-commercial use. Information in the story may be outdated or superseded by additional information. Reading or replaying the story in its archived form does not constitute a republication of the story.
Let's start with the story of the day, and refer you to the "Cougar Cuts" audio interviews with head coach Bronco Mendenhall and QB Riley Nelson, both of whom addressed the BYU Fo0tball independence story with the media members following today's practice/scrimmage.
*******
Neither had much to say about the story, with Bronco saying things like "I'm not in the loop," "I have no idea what you're talking about," adding that he has spent not "one minute" thinking about conference affiliation since the MWC Media Days in Las Vegas.
*******
From Nelson: "This is the first time I'm hearing about it; I would hope it's not a distraction. We're a lot more worried about Washington than we are about what could potentially shake down with conference alignment."
*******
I have personally examined a communication from someone close to the BYU Athletics program who said BYU's football independence and future affiliation/coordination with ESPN are a "done deal." A separate source told me it was probably no coincidence that ESPN has been out in front of this story, citing early multiple sources online and even placing the story ahead of Brett Favre's impending return this morning on SportsCenter.
Neither of those anecdotal references is in any way official, but both would seem to be in line with the current wave of information.
That said, from what I understand, no final deals have been formally consummated.
*******
With this much smoke, fire appears inevitable; the only question is when the alarm gets pulled. If BYU gets the go-ahead from its Board of Trustees for a move to football independence, it may not be too much longer before an announcement is made. At this point, the story is essentially out there; to delay official word would serve little purpose.
*******
As I posted earlier on Twitter, BYU's mission and vision are independent in nature; to be able to set many of its own terms is vital to BYU's stated purposes--in athletics and elsewhere.
A decision to go independent in Football and join the WAC (or some other conference) in other sports would mean BYU has concluded that membership in the Mountain West Conference has provided neither the fiscal benefits nor the distribution opportunities necessary to most effectively fulfill its mission for the Athletics program.
The MWC has made significant strides as a league relative to national prominence (bowl wins, NCAA bids, etc.), yet its restrictive broadcast protocol and lack of substantial TV revenue to distribute to partners may end being the conference's ultimate undoing. Losing Utah was a shot across the bow; losing BYU could sink the ship.
*******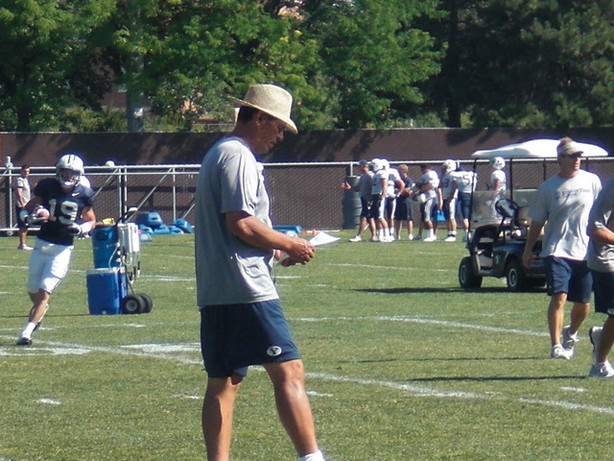 Oh, yes... there was a 60-70 play scrimmage this morning at the practice fields, so we should probably discuss that at this point.
First up, there were a number of notable offensive players who were new to the "MIA" list today:
WR McKay Jacobson (sick)
WR O'Neill Chambers (disciplinary; back this afternoon)
TE Mike Muehlmann (shoulder separation)
RB Drew Phillips (quad contusion)
WR Ross Apo (also out yesterday; tight hamstring)
Other players who have been out remained out today (Sampson, Atkinson, Wagner, etc.) while LBs Zac Stout and Collin Keoshian were both cleared for contact after easing back in yesterday following concussions.
PK Mitch Payne (sprained ankle) is getting closer to a return; he once again did some light kicking before practice this morning. Payne's kicking replacement Riley Stephenson made a number of pre-practice "live" placement kicks, but his only PAT in the scrimmage was... (wait for it)... blocked.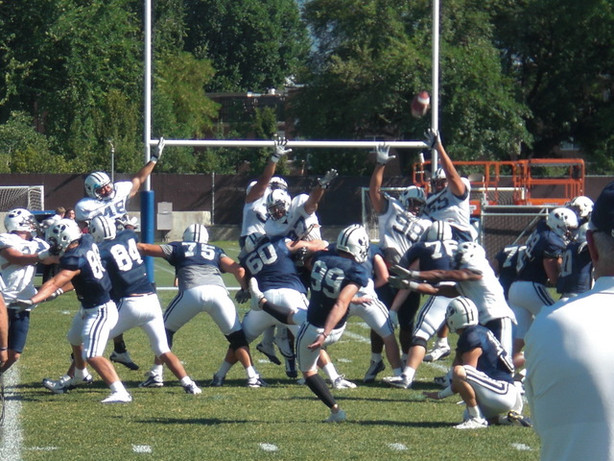 *******
Series 1: Riley Nelson (ones v. ones)
Five plays; 3rd down run short of the marker on 3rd and 2, PUNT
--
Series 2: Jake Heaps (twos v. twos)
Seven plays; 3rd down completion short of the marker after an earlier Heaps 13-yard run on 3rd and 12, PUNT
--
Series 3: Jake Heaps (ones v. threes)
Four plays; 14 yard TD pass to Richard Wilson, PAT blocked. Drive featured a 10-yard Bryan Kariya run and a 41-yard DiLuigi scamper on a great reversal of field!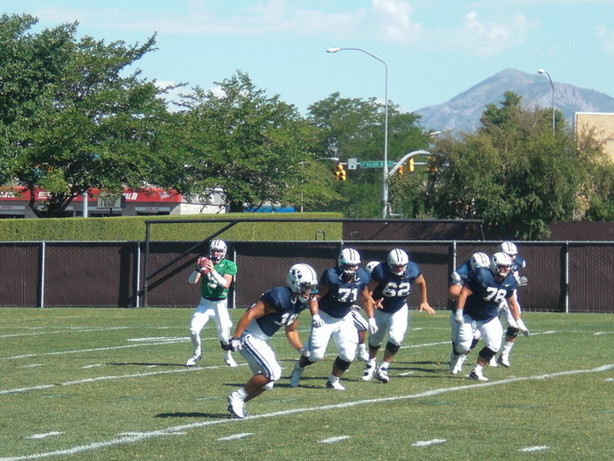 --
Series 4: Riley Nelson (twos v. ones)
Nine plays; 3rd down incompletion. PUNT.
--
Series 5: Riley Nelson (ones v. ones/twos)
Seven plays; 3rd down incompletion, PUNT. Nelson to Wilson for 20 yards earlier in the drive.
--
Series 6: Jake Heaps (twos v. ones/twos)
12 plays; 3rd down incompletion, PUNT.
--
BYU then ran four goal-line plays from the one- and two-yard line. Jake Heaps handed off for two TDs (Kariya and DiLuigi), while Nelson was the ball carrier on both snaps and was short on the first attempt (option), scoring on the second (keeper).
--
Series 8 through 12 were led by James Lark (three series) and Jason Munns (two series). None of the "ones" took part, and the series ended in four punts and a fumble.
*******
QB Stats--
Nelson: 10/14, 90 yds; 1 rush, 1 yd
Heaps: 6/10, 45 yds, TD (14 yds to Wilson); 2 rushes, 20 yards
Munns: 0/2
Lark: no passing stats
*******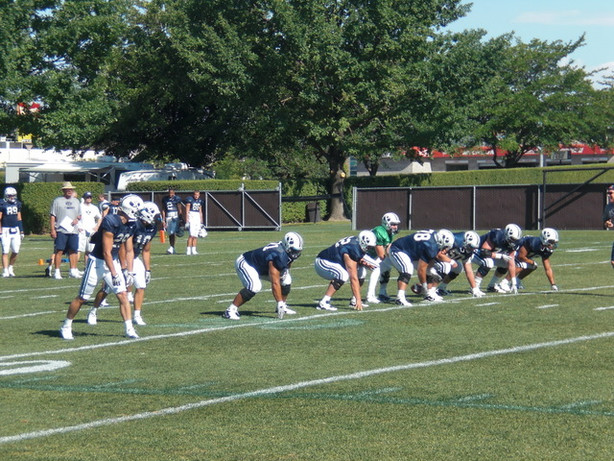 Day 10/Scrimmage Depth Chart
Two-deep unless certain positions dictate more players due to the number of reps players are receiving:
OFFENSE
QB: Jake Heaps OR Riley Nelson
TB: J.J. DiLuigi, Josh Quezada
FB: Zed Mendenhall, Algernon Brown OR Ryan Folsom
Combo: Bryan Kariya, Mike Hague
TE: Mike Muehlmann (did not play today) OR Devin Mahina OR Marcus Mathews OR Austin Holt OR Richard Wilson
WR-H: McKay Jacobson (DNP), Matt Marshall
WR-Z: Luke Ashworth, Ross Apo (DNP) OR Rhen Brown
WR-X: O'Neill Chambers (DNP), Spencer Hafoka OR Cody Hoffman
LT: Matt Reynolds, Jordan Black
LG: Braden Hansen, Ryan Freeman
C: Terence Brown, Houston Reynolds OR Blair Tushaus
RG: Jason Speredon OR Nick Alletto, Marco Thorson
RT: Braden Brown, Walter Kahaiali'i
--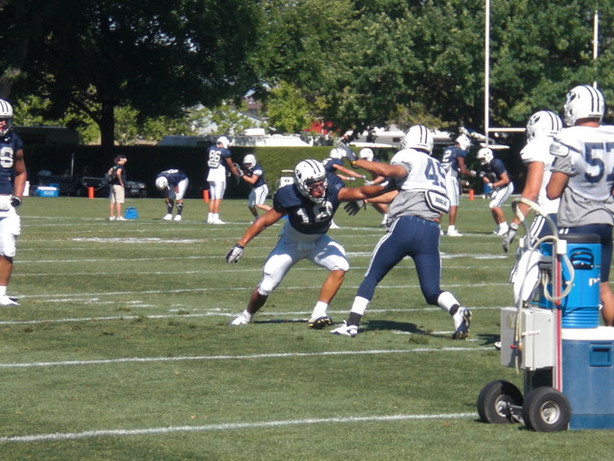 DEFENSE
LE: Eathyn Manumaleuna, Matt Putnam OR Graham Rowley
NT: Romney Fuga, Jordan Richardson
RE: Vic So'oto, Thomas Bryson
SLB: Jordan Pendleton (DNP), Jameson Frazier (also WLB), Zeke Mendenhall
MLB: Shane Hunter OR Austen Jorgensen, Zac Stout
BLB: Brandon Ogletree (DNP) OR Aveni Leung-Wai OR Austen Jorgensen
WLB: Jameson Frazier (also SLB), Kyle Van Noy, Alani Fua (Jordan Atkinson limited due to injury, DNP)
FC: Brian Logan, Robbie Buckner
BC: Brandon Bradley, Corby Eason
Kat: Andrew Rich, Jray Galea'i
FS: Steve Thomas, Travis Uale
--
*******
J.D. Falslev has emerged as the #1 punt returner; DiLuigi and Chambers remain the top kickoff return duo.
*******
More from Mendenhall today:
on the independence story: "At this point, I can't say I don't care, but other things taker precedence."
on the scrimmage: "I'm not sure I was impressed, overall. We got a chance to see a lot of younger guys. I'll see how the run defense was, how the running backs played; there wasn't much downfield throwing. It was a chance to keep evaluating players, and we'll see if anyone emerged."
The coach added that the team will scrimmage Saturday at LES; it will "probably" be the final scrimmage of camp.
*******
Today is the third day of "two-a-days"; the team will hold a light practice this afternoon. After today, double sessions will be held on Friday and next Monday. Tomorrow is the last practice open to the public; 10:15am at the practice fields.
*******
Bronco Mendenhall will be speaking at this Saturday's annual "Big Blue Bash" in Salt Lake City, along with AD Tom Holmoe, former Cougar Chad Lewis, and current players Brian Logan and J.J. DiLuigi. It is the first time the BYU head coach has spoken at this increasingly popular event (I will once again serve as MC, along with Blaine Fowler).
Call 800.426.4298 by TODAY to get $5 tickets in advance; tix will be $10 at the door on Saturday. There is a special deal in place; the Cougar Club will extend the $5 deadline to Thursday, if you mention my name when you call that day. Otherwise, tickets will be ten dollars on the event night.
The "Big Blue Bash" will be bigger than ever this year; I would expect a full house.
*******
Get camp updates first and fast on Twitter; twitter.com/gregwrubell.
*******
×