Estimated read time: 2-3 minutes
This archived news story is available only for your personal, non-commercial use. Information in the story may be outdated or superseded by additional information. Reading or replaying the story in its archived form does not constitute a republication of the story.
Amanda Butterfield Reporting During Jazz games, there's a VIP room in the heart of the arena that is full of excitement before games, at halftime, and when the game is over.
Only members of Jazz players' families are allowed inside. Usually. They made an exception for us.
It's called the family room. Every NBA team has one at its home court. We were invited inside for the playoffs.
Mixed in with the fans, you can spot wives, uncles, brothers of the players. They don't all sit by each other, but come halftime, there's a room where they all gather.
Charles Boozer is Carlos Boozer's little brother. "The Kirilenkos, Okurs, Williams, Fishers. Everybody is in here," he said.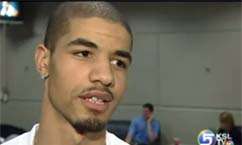 Charles loves hanging out in this room because it's an escape.
"It's quiet, except for the kids running around. But it's good," he said.
Charles is living with his brother until the fall, when he'll start college in Iowa on a basketball scholarship. By the way, the bling bling around his neck is Carlos', and it's real.
"It's a little dog tag," Charles said.
Masha Kirilenko, married to Andrei, comes here every game she can.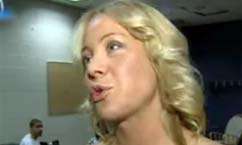 "I love coming here. I love this room. I love people that I see here," she told us.
But there is one thing she'd like changed.
"We need a bigger screen," she admitted. "I can't tell Matt Harping from Andrei Kirilenko."
And if you've ever wondered why Masha sits opposite the Jazz bench when the rest of the wives are behind the bench, it's so she can talk to Andrei when he's playing.
"We use language that only two of us can understand," she explained.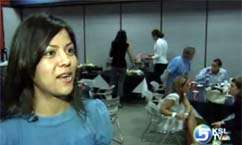 Next to Masha, Elsa Collins has been here the longest. She first started coming at 19 years old, when her husband, Jarron Collins, started playing with the Jazz. That was during the Stockton-to-Malone era.
"With every season it changes, depending who's on the team," she said.
This season, she says, it's really good.
"We all just really get along. It's a really nice atmosphere," she said.
But if you ask any of them what would make it nicer, the answer is the same: if the Jazz keep winning.
Elsa Collins said, "Now that we're here and we've made it past the first round, I can't imagine not going all the way."
For all but two families on the team, the Okurs and Fishers, this is farthest they've been able to cheer on their loved ones in the playoffs.
×
Most recent Utah stories