Estimated read time: 2-3 minutes
This archived news story is available only for your personal, non-commercial use. Information in the story may be outdated or superseded by additional information. Reading or replaying the story in its archived form does not constitute a republication of the story.
Carole Mikita ReportingA special service to honor caregivers called "Blessing the Hands that Heal" takes place every year at St. Mark's Hospital.
Representatives from a number of different denominations offer these blessings to those who care for many people who are suffering.
"Healing and love, like the wind, are always with us," so said Two Horses who honored the sacred space of this gathering. For six years now, the doctors, nurses, service workers at St. Mark's offer their hands for a blessing.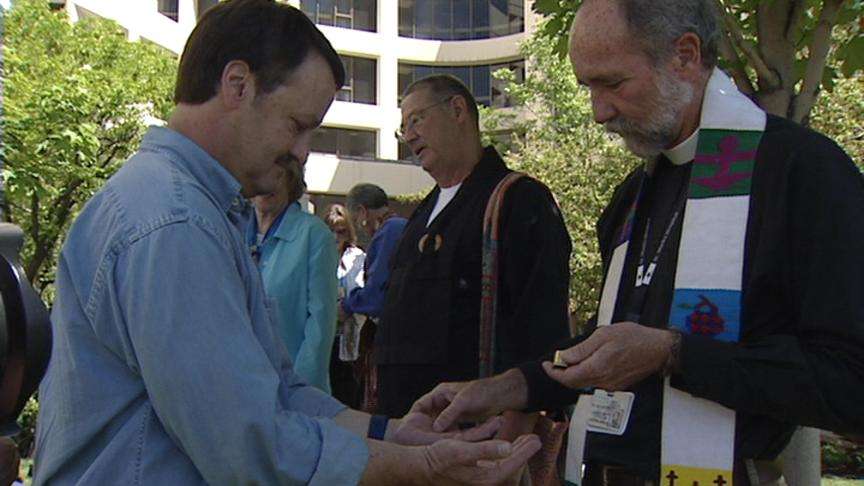 Rev. Jan Ewing, the resident chaplain at St. Mark's Hospital, says "Once a year, we get the opportunity to not only thank them and be grateful for their service, but also just to continue blessing the hands that touch people's hearts around here."
Mae Jones, in outpatient surgery, says, "If there's any heavy thoughts or if there's trouble in our mind, it kind of lifts it all up and renewal."
The hands that touch so many were touched in return today.
Carol Lee, Dir. of Cancer Support at St. Mark's Hospital, probably doesn't think about what her hands do everyday, but she says, "I think this really brings it to focus."
Organizers of this event say that one of the unique things that happens every year is that people reach out to be blessed by those of different faiths than their own.
Jody Davis, Latter-day Saint chaplain, says "It brings down walls. I think people desire to reach out to any. And for me, I look out at all these good folks and realize we're all one."
Sometimes, the healers say body, mind and spirit are out of balance and this becomes a moment of refreshment.
Rabbi Tracee Rosen with Congregation Kol Ami says, "People who are engaged in the arts and sciences of healing are really God's agents in this world..."
This special service is held every year during National Hospital Week.
×
Most recent Utah stories