Estimated read time: 2-3 minutes
This archived news story is available only for your personal, non-commercial use. Information in the story may be outdated or superseded by additional information. Reading or replaying the story in its archived form does not constitute a republication of the story.
Paul Nelson, KSL Newsradio We already knew fast food wasn't healthy, but some health educators say there's a new reason to be concerned. They say it may cause mental instability.
Drive-thru window operator: "Hi. Can I help you?"
Customer: "Yeah, um, I'd like a Quarter Pounder meal with a Dr. Pepper."
Drive-thru window operator: "OK."
Customer: "And, you don't have any Prozac, do you?"
Drive-thru window operator: "Any what?"
Is this how your conversation with the other person behind the drive-through will sound in the future? Does eating that Quarter Pounder, or Famous Star, or Whopper lead to mental and emotional problems? One health educator says you need to look at the mental health of people who live along the Pacific Rim and their diets.
Nordic Naturals spokesman Stuart Tomc is a former consultant for The World Health Organization. He says, "Compare that to the level of mental health of the people that eat primarily fast food and junk food, it would be hard not to draw that conclusion."
Tomc says the main problem with fast food is its lack of Omega 3 fatty acids. He says meat processors strip most of them to keep meat from going bad while shipping. He says the rest are destroyed when restaurants fry the food.
"If you get the right kind of fatty acids you can actually decrease levels of anxiety, decrease levels of anger," Tomc says. "We've noticed a direct connection with depression, even post-partum depression."
So, will eating fast food make you go crazy? Tomc isn't saying that, he just says you'll feel better emotionally if you eat right.
"Unless you're eating a can of sardines for lunch, pickled herring, like the Vikings, salmon, cod and tuna four or five days a week, then you are deficient in these critical fats that will help with our proper brain function," Tomc explains.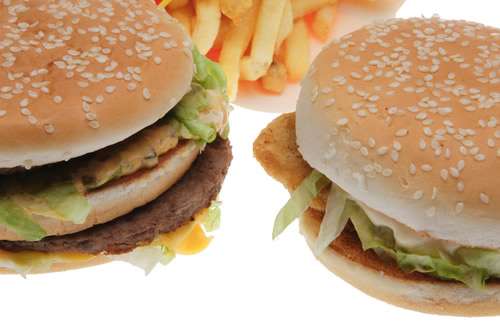 But, this is a hard sell. People outside of a Salt Lake City McDonald's tell me they've been eating this kind of food for many years and, they haven't gone crazy yet.
Paul: "It says fast food causes mental and emotional problems. Do you buy that?"
Response: "No, I don't"
Response: "No, I don't believe it."
Paul: "After you eat at McDonald's do you go in fits of rage?"
Response: "No I don't"
Response: "It probably does, because you gain weight."
Paul: "That's the only depression you feel is if you feel like you've gained weight?"
Response: "Yeah."
Tomc says if you're going to buy an Omega 3 fish oil supplement, make sure it's labeled as EPA and DHA, and you should only buy one that's in its original triglyceride state.
×
Most recent Utah stories