Estimated read time: 5-6 minutes
This archived news story is available only for your personal, non-commercial use. Information in the story may be outdated or superseded by additional information. Reading or replaying the story in its archived form does not constitute a republication of the story.
The offense got its mojo back midway through Tuesday morning's practice on day three of preseason camp—a cloud-free day, and the hottest day of camp despite the early start.
*******
With players in "shells" (helmets/shoulder pads) for the first time, QBs Jake Heaps and Riley Nelson each threw a pair of touchdown passes in "Blue Zone" drives that began at the opposition 20-yard line; a fifth blue zone series was led by James Lark and ended with Bryan Kariya taking a handoff from the three-yard line for what would have resulted in a touchdown under game conditions.
On the receiving end of touchdown passes in the "blue zone" period were Josh Quezada (13 yds, from Nelson), Ross Apo (18 yds, from Heaps), McKay Jacobson (9 yds, from Heaps) and Marcus Mathews (12 yds, from Nelson). Nelson got series 1 (w/ ones, vs. ones) and 4 (w/ twos, vs ones); Heaps took snaps in series 2 (w/ twos, vs. twos) and 3 (w/ ones, vs. threes).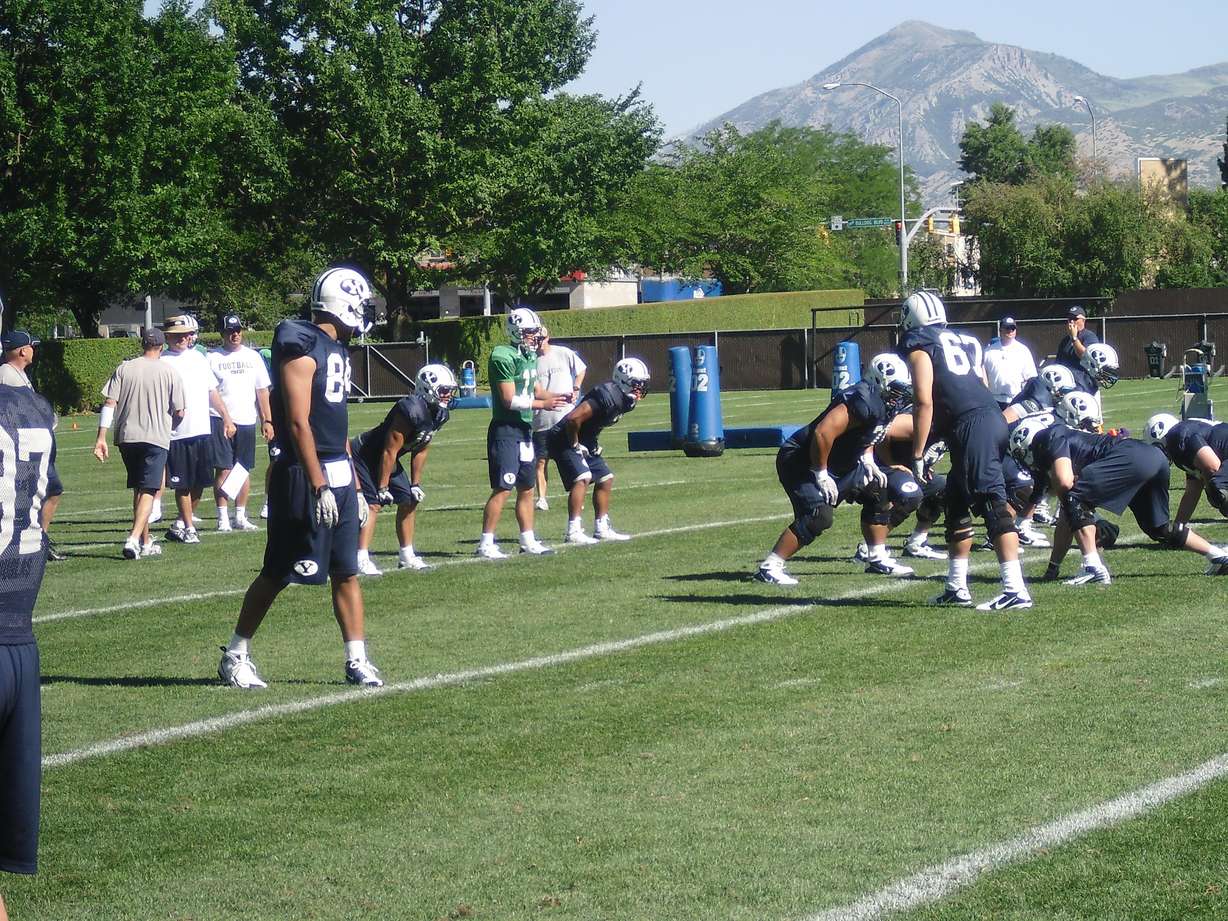 ******
Although RB Drew Phillips remained out (yet to be cleared by the NCAA Clearinghouse), the newcomers absent for summer school commitments on Monday were back on the field today, giving a more accurate picture of the developing three-deep at most positions.
Absent today (besides Phillips) were LB Aveni Leung-Wai (hamstring), LB Matt Putnam (academics), TE Bryan Sampson (hamstring) and CB Robbie Buckner (sore knee).
*******
The 20-period practice concluded with three series of 11-on-11 "Team" work.
Jake Heaps got the first snaps from 70 yards out; he had a great drive going (5/5 passing, 42 yds on the drive) until he threw for O'Neill Chambers at the goal line; Brian Logan stepped in front for the first live interception of camp (Heaps' only incompletion of the day). Logan ran up the back of Kyle Van Noy at the end of the runback; for a moment, it appeared both were hurt, but both players shook off the collision.
*******
Riley Nelson's one "team" series was an impressive nine-play drive that ended with an 18-yard touchdown toss to B.J. Peterson. Highlights of the drive were an 11-yard Nelson run, a 15-yard Nelson draw, and a 21-yard Nelson-to-Austin Holt pass play.
*******
Jason Munns got the final snaps of practice, and after completing a 15-yarder to J.D. Falslev, the drive bogged down, with Jameson Frazier, Kyle Van Noy and Jordan Richardson all recording sacks.
*******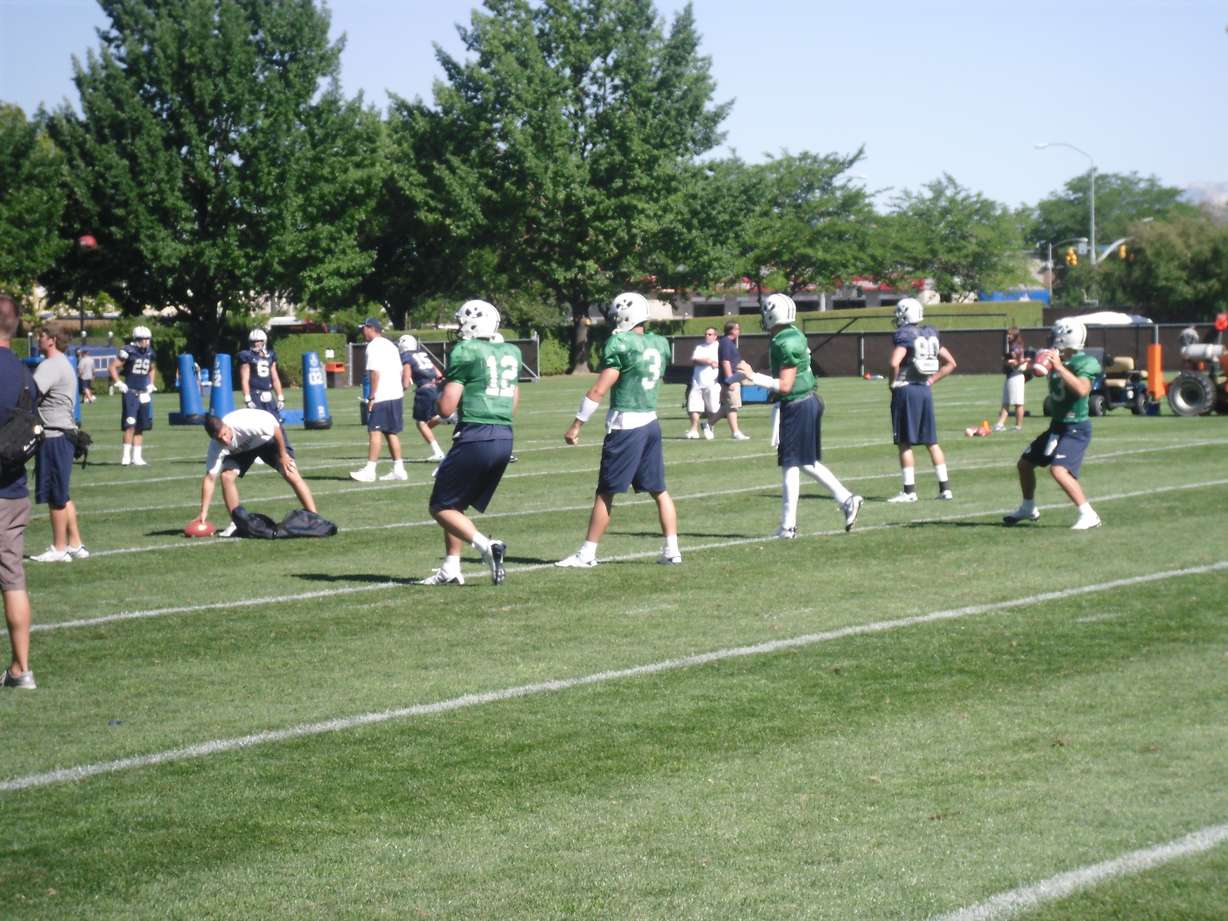 QB Stats on Day 3--
Jake Heaps: 10/11, 86 yds, 2 TDs, 1 int
Riley Nelson: 4/6, 63 yds, 3 TDs; 6 rushes, 48 yds
*******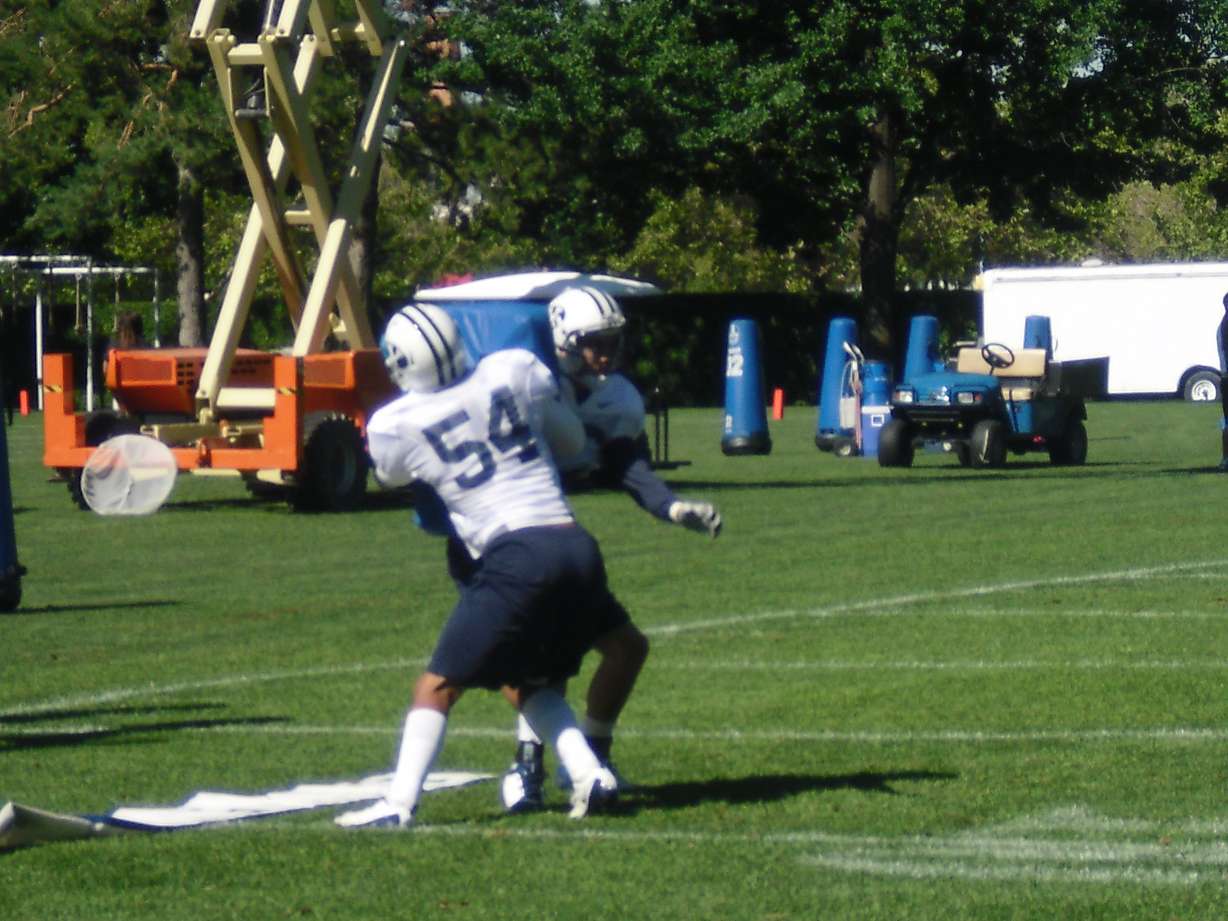 You can hear post-practice interviews with head coach Bronco Mendenhall and RB Bryan Kariya. Kariya breaks down the entire 10-man BYU backfield with comments about each of his teammates, and himself.
Check out the "Cougar Cuts" box above, and listen while you read.
*******
From Mendenhall:
on Drew Phillips: "We're still hoping to hear (from the Clearinghouse) today. I don't have reason for concern."
on the offensive line: "They just kind of remain steady."
on Kori Gaines' move today from FS to BC: "It might be a place he can play; we'll see."
on Van Noy; Sam (strongside) or Will (weakside)?: "Hard to say right now. A little bit early, but he's impressive most so far as a pass-rusher (weakside), and (WLB) is easier to learn."
on when SLB Jordan Pendleton will be allowed to go "live" and hit in practice: "Good question. I'm not sure, nor would I be concerned if we went all the way into game week without him (hitting). I don't worry about him."
*******
Day 3 Depth Chart
OFFENSE
QB: Jake Heaps OR Riley Nelson, James Lark OR Jason Munns
TB: J.J. DiLuigi, Josh Quezada, A.J. Moore, Drew Phillips
FB: Zed Mendenhall, Algernon Brown, Ryan Folsom
Combo: Bryan Kariya, Mike Hague, David Foote
TE: Mike Muehlmann, Devin Mahina, Marcus Mathews OR Austin Holt OR Richard Wilson, Bryan Sampson (injured), Matt Edwards
WR-H: McKay Jacobson, Matt Marshall, Dallin Cutler OR D.J. Doman
WR-Z: Luke Ashworth, Ross Apo OR Rhen Brown
WR-X: O'Neill Chambers, Spencer Hafoka OR Cody Hoffman OR B.J Peterson, J.D. Falslev
LT: Matt Reynolds, Jordan Black, Cole Jones
LG: Braden Hansen, Ryan Freeman OR Austin Nielsen
C: Terence Brown, Houston Reynolds (not yet "live"), Ryan Freeman OR Blair Tushaus
RG: Jason Speredon OR Nick Alletto (not "live"; quad), Marco Thorson, Manu Mulitalo OR Clayton Gruber
RT: Braden Brown, Walter Kahaiali'i, Quinn Lawlor
--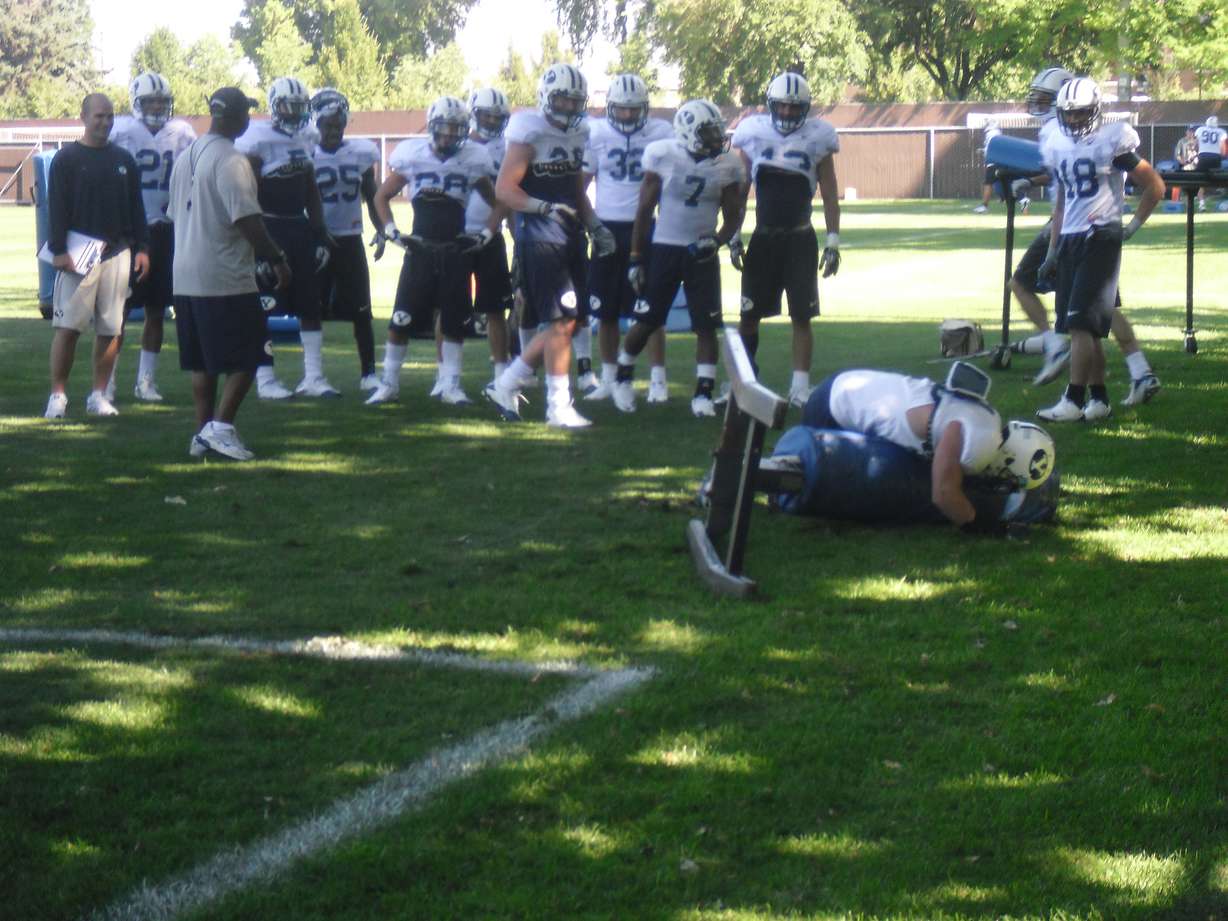 DEFENSE
LE: Eathyn Manumaleuna, Graham Rowley, Tayo Fabuluje
NT: Romney Fuga, Jordan Richardson, Travis Tuiloma
RE: Vic So'oto, Thomas Bryson, Matt Peterson
SLB: Jordan Pendleton (not "live"), Zeke Mendenhall, Kyle Van Noy OR Connell Hess
MLB: Shane Hunter, Austen Jorgensen, Zac Stout
BLB: Brandon Ogletree, Aveni Leung-Wai (injured), Pete Van Valkenburg, Collin Keoshian
WLB: Jameson Frazier, Jordan Atkinson (not "live"), Kyle Van Noy OR Sae Tautu OR Alani Fua (Jadon Wagner injured)
FC: Brian Logan, DeQuan Everett OR Robbie Buckner (injured), Dalin Tollestrup
BC: Brandon Bradley, Corby Eason, Kori Gaines OR Jordan Johnson
Kat: Andrew Rich, Jray Galea'i, Carter Mees
FS: Steve Thomas, Travis Uale, Landon Jaussi
--
*******
From the notebook...
: preliminary punt-return pool consists of Jacobson, Chambers, Falslev, Hafoka, DiLuigi and Tollestrup
: in drills with no defense present, Jake Heaps is rarely not on the money with his passes. Even with the defense, he is remarkably accurate (witness 10/11 today). It's not that the other QBs aren't sharp, it's just that Heaps is kind of a metronome in the way he gets the ball out there.
: I am sure that Tayo Fabuluje enjoyed yesterday's day off from practice (summer school commitment). The dude is laboring to get through right now as the combination of heat, altitude and college-level competition and drills is wearing on the huge freshman.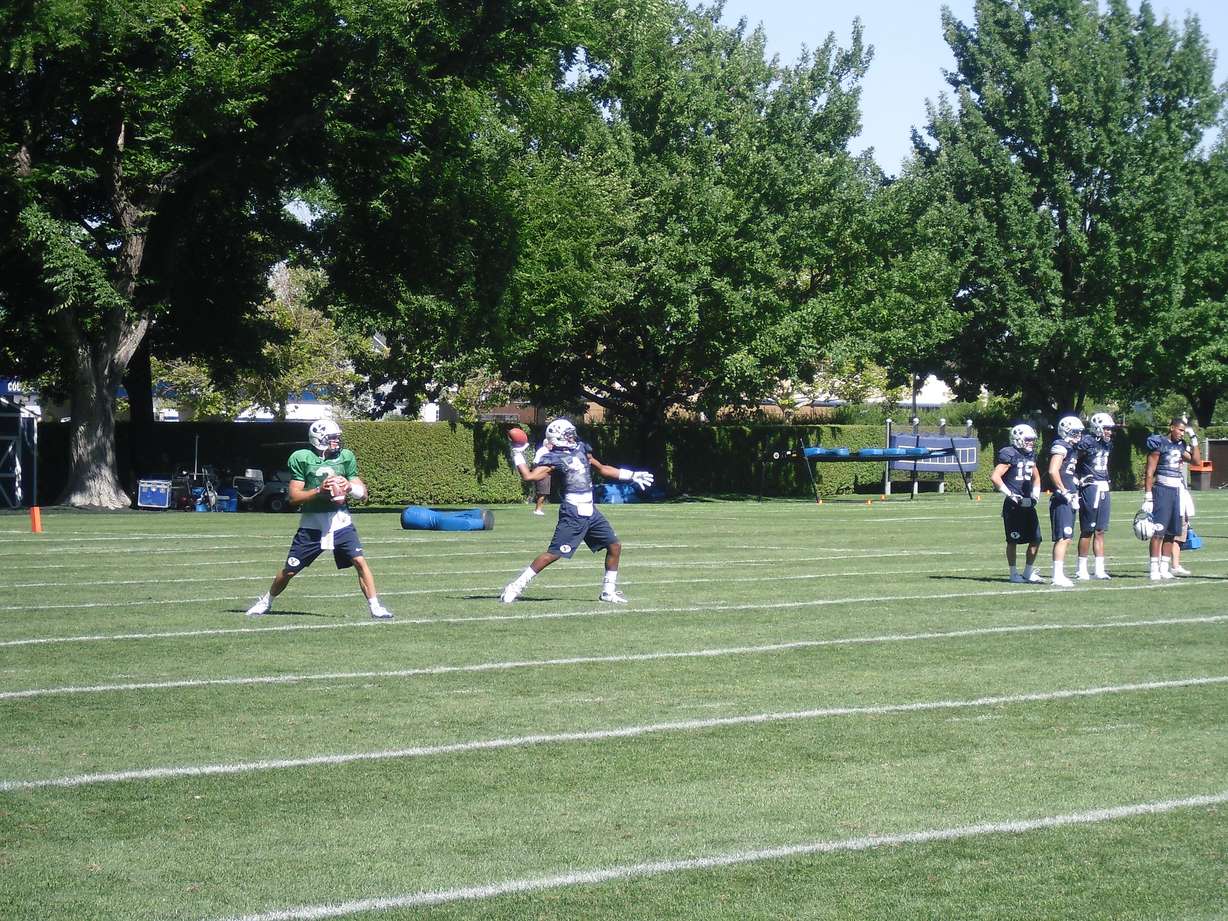 : during a particular drill today, three QBs were busy elsewhere and two passers were need to complete the drill in question. So, stepping in at QB was O'Neill Chambers (see pic to the side), and for what they needed him to do (basically, loft the ball downfield to a receiver), he looked quite good.
*******
As mentioned yesterday, the BYU Football program will hold its "Thursday's Hero" Reunion Dinner on the practice field tonight.
The team returns to the field for a 10:15am session tomorrow morning; the second and final "shells" day, with full pads going on Thursday morning.
*******
×
Photos
Most recent Sports stories