Estimated read time: 4-5 minutes
This archived news story is available only for your personal, non-commercial use. Information in the story may be outdated or superseded by additional information. Reading or replaying the story in its archived form does not constitute a republication of the story.
Ashley Hayes & John Hollenhorst Reporting There have been two fires in two years at the same oil refinery furnace. It's a message environmentalists are taking to city leaders and one over which residents are expressing concern.
A fire at a Woods Cross oil refinery last night has environmentalists concerned about another facility's plans to expand nearby. That environmental group says the refineries release carcinogenic toxins in the air we breathe and say last night's fire is another reason to stop building more refineries.
Before last night's blaze at Sliver Eagle the group Utah Physicians for a Healthy Environment had already planned a presentation for South Davis city leaders surrounding air pollutants involving oil refineries.
West Bountiful is set to vote this week on whether to permit Holly Refineries to expand its operation. Organizers of the presentation argue that last night's fire only serves as an example of why not to build more refineries.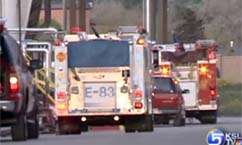 No one was hurt in last night's blaze, but firefighters say it was a spectacular fire that produced huge black clouds and leaping flames. Firefighters say it started when a diesel line erupted inside one of the furnaces, the same furnace they were called to for a fire less than two years ago. Dispatchers received several calls around 8:00 last night with callers saying they heard an explosion.
South Davis Metro Fire Agency Deputy Chief Jim Rampton said in a interview last night, "We got in here quick. We were able to control this fire very quickly. I know it looked very impressive with the smoke and everything, and that is a concern to us. We want to get this in as soon as we can. So everything right now looks OK, and there no longer looks like there's any threat."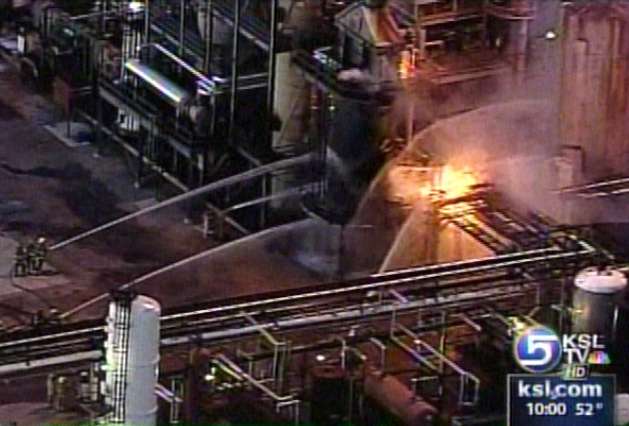 Crews had the fire out within 15 minutes, but it was closer to an hour before the furnace was cool enough for firefighters to close off the valve feeding the fuel. No homes had to be evacuated and no one, including refinery employees, was hurt.
Though we were unable to get a hold of a representative at Silver Eagle, Chief Rampton said the company is concerned that this is the second time the furnace has started a fire and is conducting an internal investigation.
That fire is also stirring up critics who have long-time concerns about living near the refineries. When the Silver Eagle Refinery was ablaze late Sunday, lighting up the sky with flames and darkening it with black smoke, North Salt Lake resident Crystal Folgmann went into her back yard and took pictures of the distant fire. Folgmann says, "That tells me there can be emergencies they can't control."
From her perch in North Salt Lake, she started taking pictures several months ago of pollution from several refineries. She says it seems especially bad on Sunday nights. "It's a real quiet time to try to sneak one off," she says. She's one of many refinery-area residents fighting the expansion of the Holly refinery. It's north of the refinery that had the fire.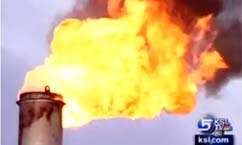 The state installed an air monitoring station in Bountiful three years ago, the only one in the state that tests for toxic chemicals. Utah Director of Air Quality Rick Sprott says, "And it suggests there is not a significant problem there in that area." In fact, they say the air is similar to West Valley City's and to national averages. But Folgmann says she moved here eight years ago from an industrial area of Detroit. "It's a lot worse here, I believe. I came here hoping for the good life, like most people want in Utah," she says.
Refinery officials insist their plants are safe and not unhealthy. Silver Eagle Refinery Operations Manager Gil Higham says, "Well, I would prefer not to have them in a populated area. But this wasn't populated when I started here."
State officials do acknowledge there are odor problems, and they admit they could use more monitoring instruments, especially along the fence lines of refineries. Even during last night's smoky fire, air monitors detected no additional pollution. That's either because the smoke all went straight up or because the state's monitors were not in the right place to pick it up.
West Bountiful city leaders plan to vote on expanding the Holly refinery after reviewing environmentalists' presentation this week.
×
Related links
Most recent Utah stories