Estimated read time: 3-4 minutes
This archived news story is available only for your personal, non-commercial use. Information in the story may be outdated or superseded by additional information. Reading or replaying the story in its archived form does not constitute a republication of the story.
VIDEO - Watch the Rocky/Hannity Debate HereSALT LAKE CITY (AP/KSL News) -- The activist mayor of Utah's largest city and talk show host Sean Hannity traded barbs Friday in front of nearly 2,000 people, debating the war in Iraq and whether President Bush should be impeached.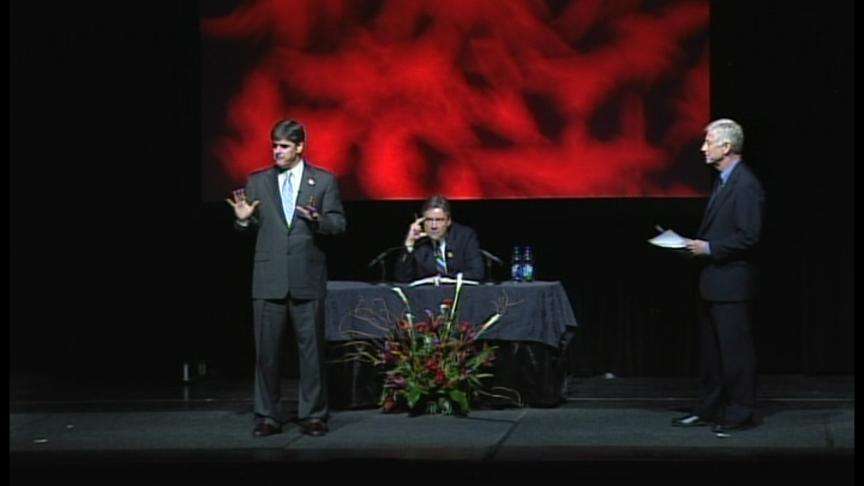 "We are in the midst of a tragic, disastrous, illegal war of aggression in which this nation was led by a disastrous presidency," Salt Lake City Mayor Rocky Anderson, a Democrat, said during the debate for charity at the University of Utah. "The invasion and occupation of Iraq has been tragic, unnecessary, unprovoked and illegal. We attacked a nation that posed no threat to our security, and now the United States is an occupying force."
Anderson and Hannity were given 30 minutes each to make a presentation supporting their positions on the two topics of debate. Anderson's presentation included documents and videos outlining his case. Hannity focused his speech on criticizing dissenters.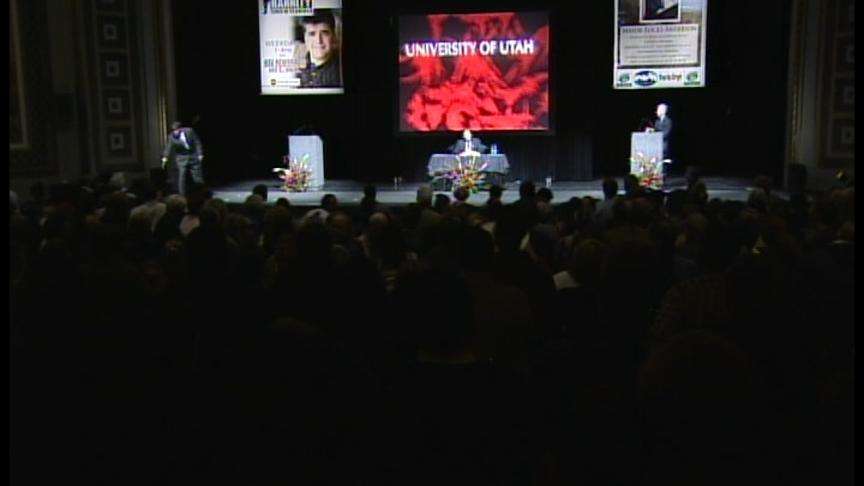 "They're hurting troops, hurting morale, they're undermining what it is we're trying to accomplish," he said.
Hannity also called Anderson a hypocrite for not calling for Sen. John Kerry, D-Mass., to be removed from office because Kerry voted to authorize the war.
"If Rocky Anderson will not be equally intelligent, honest and open and criticize the very same people that made the very same arguments, it's not George Bush who should be impeached or removed from office. It's your mayor," Hannity said.
Following their presentations, the two took questions from each other and audience members. The crowds for Anderson and Hannity seemed to be evenly matched. There were cheers, cat calls, and boos for both sides. Even the moderator was not immune from the crowds' reactions.
Hannity asked Anderson if he would call for Kerry and other Democrats in Congress to resign.
Anderson said Congress needs to take responsibility for the resolution authorizing war but didn't call for anyone to be removed from office.
Some left the debate early. One woman told KSL that the debate turned into a name-calling session for Sean Hannity while Rocky was just stating the facts.
Anderson has led protests against Bush during each of the president's past two visits to Utah and travels the country frequently to call for Bush's impeachment. He has come under frequent criticism from Republicans who say he is embarrassing the city and the state.
There's no question Utah is heavily Republican, with Bush winning 72 percent of the vote in the 2004 election.
But in the state capital, a city of about 180,000 people, Democrat John Kerry received 57.9 percent of the vote.
Anderson has been the city's mayor since 2000 and is not seeking a third term, despite high approval ratings from voters such as Antoinette Billings, a Democrat.
"I think he's brave to bring his convictions, and he's sincere that he wants to make a difference," she said.
Tickets to Friday's debate sold out in less than two hours, with the divided crowd giving Hannity and Anderson a raucous reception.
The two have been feuding for months. Anderson originally was scheduled to appear on Hannity's cable television show, "Hannity and Colmes" on March 8. That appearance was canceled the day of the show.
Following the show's cancellation, the two agreed to debate for charity, although it took weeks to finalize details. It was supposed to be a strictly organized debate, but Anderson and Hannity both broke their own rules by frequently interrupting the other and avoiding answering one another's questions.
During the debate, Hannity repeatedly referred to Anderson as a part-time mayor for his nationwide travels protesting the war and called him by his formal name, Ross, instead of Rocky.
On April 23, Hannity threatened to cancel the debate because a documentary crew making a film about Anderson was planning to attend. Hannity worried that if a documentarian's request to film the debate was honored, the documentary could be edited unfairly. Anderson consented to Hannity's request that the film crew not be allowed.
Tickets for the debate were hard to come by. Scalpers were selling tickets online for as much as $175 each.
(Copyright 2007 by The Associated Press. All Rights Reserved.)
×
Related links
Most recent Utah stories