Estimated read time: 2-3 minutes
This archived news story is available only for your personal, non-commercial use. Information in the story may be outdated or superseded by additional information. Reading or replaying the story in its archived form does not constitute a republication of the story.
Carole Mikita ReportingThe blogs are abuzz with comments about the PBS documentary "The Mormons."
Part one aired last night. It brought PBS affiliate KUED the highest ratings in the market last night, and that included the Jazz playoff game. Viewers' opinions on the show run the gamut.
After three years of research and travel and 800 interviews, PBS is presenting "The Mormons."
The producer of the documentary, Helen Whitney, said, "I, personally wanted to make this film because I'm interested in really radical religions, and when I use the word radical, I mean all-consuming religion, all-encompassing, it takes up much of your time. It is not a Sunday religion." She said she hoped the program will spark discussion, and it looks like it has.
From the blog, Mormanity, a viewer wrote, "I got the sense that in the beginning, we were watching a horror movie. The pictures were dark, murky, and quite frankly, scary. And the music was creepy!"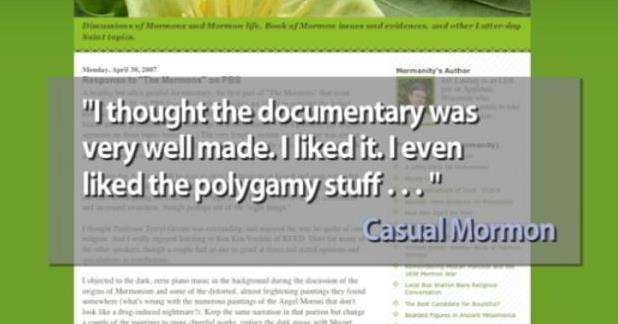 Another viewer wrote, "I thought the documentary was very well made. I liked it. I even liked the polygamy stuff."
On PBS's site, a viewer from Nevada said, "I watched with great interest. I think this is a very thoughtful presentation."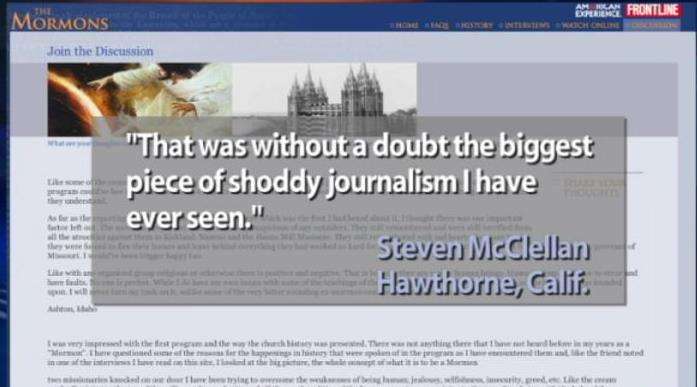 Another from California counters, "That was without a doubt the biggest piece of shoddy journalism I have ever seen."
Regarding feminist Mormon housewives, someone said, "What we saw was not negative, but it does tell the truth, warts and all." Another person wrote, "The dancing part was awesome. I'll bet the dance department at BYU is cheering!"
In response, KUED will air an one-hour Utah Now special with a variety of voices. The producer of Utah Now "Viewing the Mormons," Elizabeth Southwell, said, "We're kind of working on the assumption that people will have seen our documentary and then tune into Utah Now to kind of maybe get some analysis and maybe synthesize what people are thinking and feeling, here locally, in our Utah community."
"The Mormons" part two, which focuses on the modern church, airs tonight on KUED at 8 p.m.
KBYU is simulcasting the program and co-producing KUED's Utah Now "Viewing the Mormons" response, which airs Friday at 8 p.m.
×
Most recent Utah stories