Estimated read time: 2-3 minutes
This archived news story is available only for your personal, non-commercial use. Information in the story may be outdated or superseded by additional information. Reading or replaying the story in its archived form does not constitute a republication of the story.
Whit Johnson ReportingOne man is behind bars with a bullet wound to the shoulder, others are on the run. It's all part of a gang related shooting that happened in Salt Lake City overnight.
The location of the shooting has a history of violence. Police say there have been drive-by shootings directed at the home before. Neighbors described the scene early this morning as an all out gun battle. At least a dozen shots were fired. Bullets riddled cars and homes.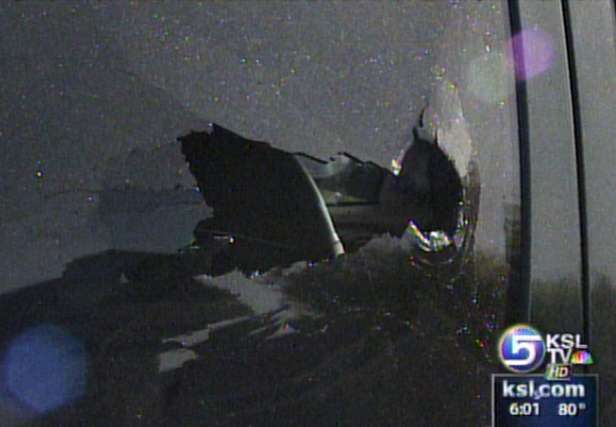 Sgt. Joe Cyr of the Salt Lake police department said, "We do suspect that this is gang related."
The first 9-1-1 call came into dispatchers around 4:00 a.m. regarding a gun battle underway outside a home at 12-69 West Indiana Avenue.
One neighbor got out of bed thinking the gunshots were part of a dream, but then they kept coming. "So I woke up to see what it was and I looked out the window and you just see the neighbors and some guy just shooting at each other."
When police arrived they found 22-year-old Anthony James Martinez unconscious with a gunshot wound to the shoulder.
"The evidence we found outside on the porch was some blood soaked material and when we got permission to go inside the house we found some more of that material," Sgt. Cyr said.
Inside the home police found a pound of marijuana and a stolen handgun was located nearby.
Some of the stray bullets went through fences and into neighboring homes. Sgt. Cyr said, "One of those bullets actually entered the living area but fortunately didn't hurt anybody inside."
Martinez was treated at the hospital and then booked into jail on drug charges, for the marijuana that was found. Police have some leads but are still looking for other suspects.
×
Most recent Utah stories