Estimated read time: 2-3 minutes
This archived news story is available only for your personal, non-commercial use. Information in the story may be outdated or superseded by additional information. Reading or replaying the story in its archived form does not constitute a republication of the story.
Alex Cabrero Reporting Tragedies always remind us all of how precious life is and how quickly it can be taken away. In February, an explosion at a Saratoga Springs home killed a Questar worker and a mother. Just two weeks ago, a Salem mother and her three children were killed in a car crash. Today there were benefits and fundraisers for both families.
With the Salem family, only the father is left alive because he didn't go on that trip to Colorado. Now he has to find a way to pay for four funerals.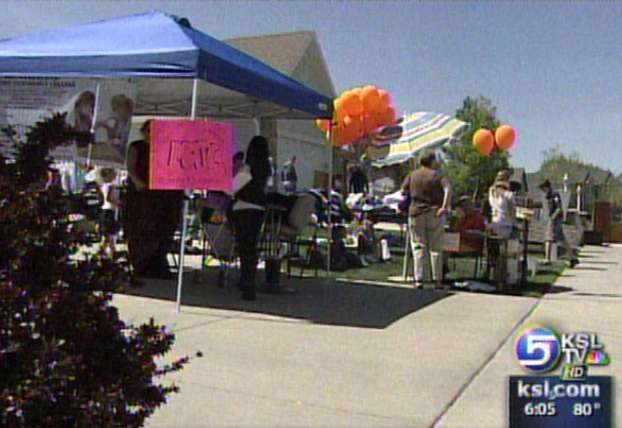 In the Saratoga Springs story, April Roper leaves behind her husband and her daughter. Today a run was held to raise money for her daughter's future. Five hundred people were expected to run to help raise money for the Roper family, but 1,200 showed up.
Stacie Dougher put this run together for young Olivia Roper, whose mother, April, was killed in a natural gas explosion at her Saratoga Springs home this past February. She knew some people would come out to support the run, just not so many. "It has just been an awesome, awesome thing to look at," Dougher said.
April's husband, Greg, also couldn't believe how many strangers came out just to help him raise money for his daughter. "It's amazing. When they told us the final amount of the people who have registered, it was pretty amazing."
Pretty and amazing are also two words being used in Salem today. Hundreds of people went to a house's garage sale, where all the money raised would go to Duane Halladay who now has to bury his wife, Crystal, daughter, Annie, and two sons, Colton and Nicholas, after they were killed in a car crash in Colorado earlier this month.
Deb Sorensen, Crystal's sister, said, "Everybody has been great to our family, and we just want to tell everybody thanks."
Two Utah County communities, one in the south and one in the north, both feeling the same pain.
Tragedies do have a way of bringing us all a little closer, though. "We wanted something we could all heal from and come together as a community," Stacie Dougher said.
Funds have been set up for both families if you'd like to help them out. The Halladay family set up a fund at any Farr West Bank Branch. The Roper family has a Web site set up for donations at www.anaprilrunforolivia.com.
×
Related links
Most recent Utah stories