Estimated read time: 2-3 minutes
This archived news story is available only for your personal, non-commercial use. Information in the story may be outdated or superseded by additional information. Reading or replaying the story in its archived form does not constitute a republication of the story.
Samantha Hayes Reporting A day after Vice President Dick Cheney spoke at the BYU graduation, a handful of student organizers say they are more energized than ever about grass roots politics. Fifteen hundred people, many of them graduates, came to the alternative commencement presented by those students.
That event was organized in just a couple months. To pull it off, about 25 student organizers worked together to bring BYU an alternative on graduation day. In a matter of weeks they raised the money, found a venue and lined up speakers including Ralph Nader.
Student organizer Carl Brinton said, "It was indescribable. Going into it there were so many anxieties, and we really didn't know what to expect. Some people had certain expectations, [and] we were not sure what the turnout would be, how the media was going to be, how the venue would work out."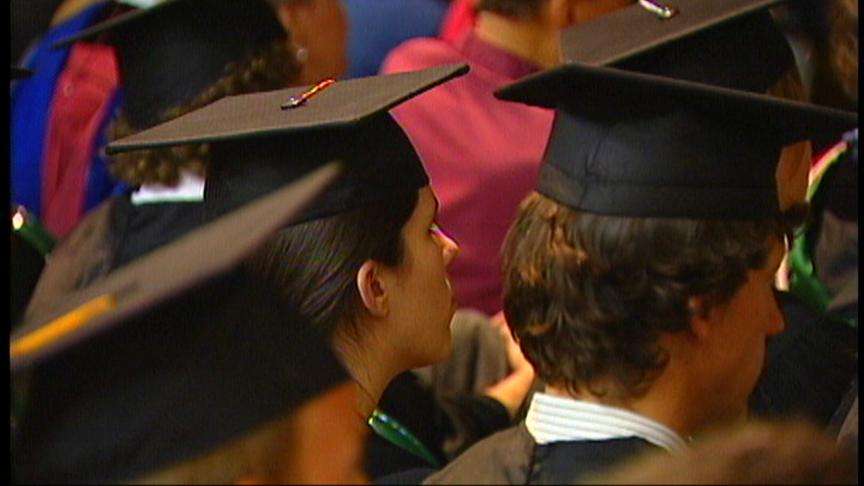 Brinton says it was the relationships among those organizers that made the event successful. Those relationships started years ago in Ashley Sander's apartment. "One thing led to another, and every Wednesday night they decided to meet, and they called it discussion night, and they'd have discussions on all sorts of things," Brinton explains.
One of those discussions took place recently when the university announced Vice President Dick Cheney would be the speaker during commencement. "Instead of just talking about things, we felt a motion to go do something," Brinton says.
Students, including Brinton, attended both Cheney's speech and Nader's address. Brinton said of the address, "Basically everyone said the same thing, and the way I felt was that Dick Cheney's speech, albeit neutral, not politically one way or the other, was rather cliché--hearing the same things we always heard."
Politics aside, the students say they wanted to provide an alternative voice on a very important day that would inspire students to action.
Brinton is the youngest of the three main organizers. The other two graduated. He wants to carry on the momentum of the commencement ceremony into local politics.
×
Related links
Most recent Utah stories