Estimated read time: 2-3 minutes
This archived news story is available only for your personal, non-commercial use. Information in the story may be outdated or superseded by additional information. Reading or replaying the story in its archived form does not constitute a republication of the story.
Gene Kennedy & Richard Piatt ReportingFormer Governor Mike Leavitt was in Utah today to learn more about mass shootings.
Shootings like Trolley Square and Virginia Tech prompted the White House to get involved.
President Bush asked three cabinet members to travel the country exploring some of the serious questions raised by mass shootings. Utah is one of seven states getting attention. Health and Human Services Secretary Mike Leavitt was in Utah to meet with officials here.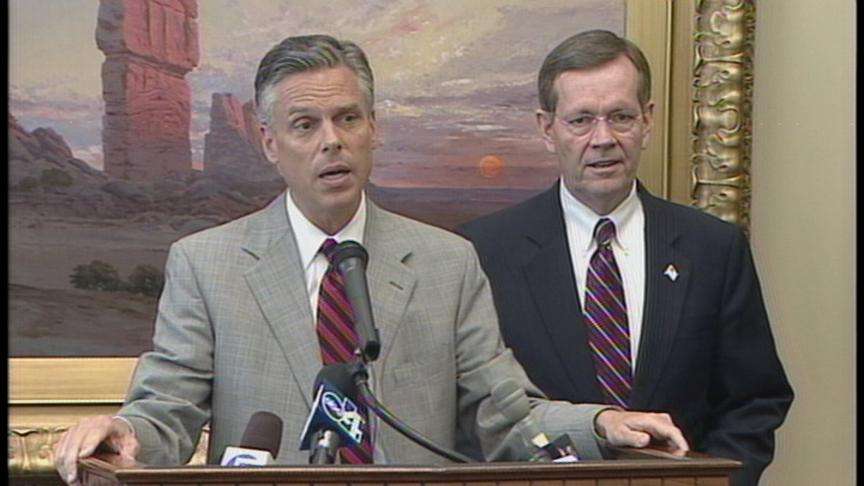 Leavitt met with current Governor Jon Huntsman this morning, to talk about how to better prepare for mass shootings. Trolley Square was the focus.
Talks began in the governor's office at 8:30 this morning. Then Leavitt attended a round-table discussion with 30 local leaders, mostly representatives from Utah school districts, the police department and mental health agencies.
Governor Huntsman's spokesman Mike Mower said, "Their focus is on looking at primarily youth who have become disaffected and may act out in awful, horrible and violent ways like we saw here in Salt Lake and they saw in Virginia last week."
Utah was chosen specifically because of the Trolley Square shooting. Governor Huntsman feels Utahns may be able to provide good feedback that can help the rest of the nation. Mike Leavitt said, "It's very important we not overreact. But this is the moment when we can reevaluate our value judgment."
All of them are trying to gain insight on a troubling question: How can we prevent future shootings?
Asst. Principal of Lehi Jr. High Judy Runolfson said, "It shows that they care enough to take time out of their busy schedule to put a highlight on what can and cannot be done."
Leavitt said, "We've gathered today in Utah people who have been thinking about this a lot."
Officials predict tweaks in laws and policies but nothing drastic. Governor Huntsman said, "I guess you could blame guns, you could blame access to video games and the media. You could blame lots of symptoms and no one in his community dealing with them."
White House cabinet members are visiting six other states, including Colorado, California, and Texas.
The results of today's meeting will be on the president's desk in 30 days.
×
Photos
Related links
Most recent Utah stories