Estimated read time: 1-2 minutes
This archived news story is available only for your personal, non-commercial use. Information in the story may be outdated or superseded by additional information. Reading or replaying the story in its archived form does not constitute a republication of the story.
Rich Piatt ReportingVice President Dick Cheney's speech came and went with no event inside the Marriott Center on the BYU campus. There were no hecklers, no talk of politics and no controversy at all.
Of the 6,200 graduates, not everyone stood after his speech, but the vast majority did.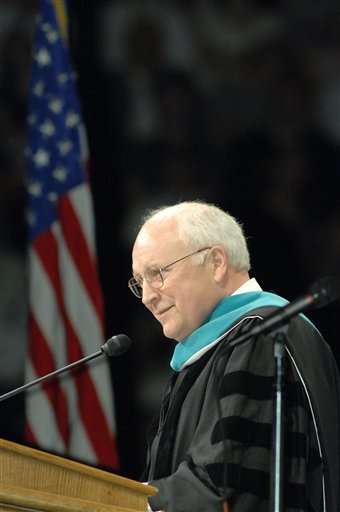 It was probably because of who he is, but it also could be because of what he said. He gave advice on life, being appreciative and grateful, looking for opportunity after college and to expect the unexpected.
"One of the things I love most about our country is that we have such opportunities. America is still the country of a second chance. Most of us end up needing one," Cheney said.
Vice President Cheney says he's had several second chances in his career, offering that his life in politics was indeed unexpected. After his speech, the audience gave him a rousing round of applause and a lot of people gave him a standing ovation. A few people chose to sit, but overall Cheney got a very warm welcome at the Marriott Center.
The vice president received an honorary degree at that graduation ceremony, and it was a packed house. Ira and Marylou Fulton, and Jack and Mary Wheatley also received honorary degrees. More than 6,200 students received degrees that include 190 doctoral degrees and 717 master's degrees.
Graduates at today's ceremony come from all 50 states, two U.S. territories and 71 foreign countries. Fewer than 29 percent of today's graduates are from Utah. The youngest graduate was 19 years old and the oldest was 61.
×
Related links
Most recent Utah stories