Estimated read time: 2-3 minutes
This archived news story is available only for your personal, non-commercial use. Information in the story may be outdated or superseded by additional information. Reading or replaying the story in its archived form does not constitute a republication of the story.
Gene Kennedy Reporting Struggling to live a normal life is what disabled kids experience every day. But a Salt Lake City organization is changing that.
It's called "Splore." For the last 30 years, it's helped make adventures accessible for the disabled.
"The first time I saw it, it brought tears to my eyes. It was the greatest thing ever," said Donna Miller. Her son, Justin, can't walk, let alone rock climb. But the organization Splore is helping him feel the experience.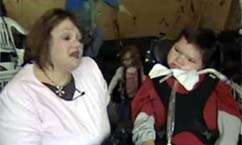 "He enjoys it very much, yes," she told us.
Miller wasn't sure about it at first. "We came, and I was very apprehensive," she said. "He loved it. He just wanted to keep going higher and higher and higher."
Volunteers use a special rope and strap Justin into a sling. And up he goes, right alongside other special needs kids.
Erik Rolstad is the executive director of Splore. "We have folks with traumatic brain injuries. We have folks who are quadriplegic. We have folks with a full range of disabilities," he explained.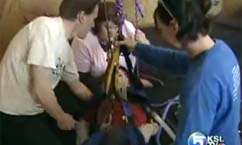 Splore began in 1977. For the last 30 years, the organization says it has served 26,000 disabled people, as Utah's first accessible outdoor adventure program. They hike. They canoe. They even raft with wheelchairs on board.
"There's a lot of joy in being able to have a new experience, to try something new," Rolstad said. "There's some challenge and pushing through some nervousness with the activity."
Justin Miller has been involved in the program for two years. He's been rock climbing and hopes to canoe this summer. Splore gives him the chance to have fun and meet other children.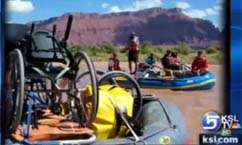 "It's also really personally empowering," Rolstad said. "It helps people develop a sense of self-determination that transfers to everyday life in a lot of ways."
Donna Miller said, "Just that feeling that I get that he's really doing this. It's like, wow! And that's really great."
Splore is open to anyone with disabilities. If you want to get involved check the link on this page. Right now, they're gearing up for a lot of summer activities, especially in Moab.
×
Related links
Most recent Utah stories