Estimated read time: 3-4 minutes
This archived news story is available only for your personal, non-commercial use. Information in the story may be outdated or superseded by additional information. Reading or replaying the story in its archived form does not constitute a republication of the story.
Marc Giauque, KSL NewsradioTraumatic events, like the shooting at Virginia Tech, or the one at Trolley Square forever changes the lives of survivors, families of victims, even institutions. But out of such tragedy also emerge stories of survivors who defy the odds to escape, or heroes who save lives. There are some who think those people share common personality traits that may give them an edge.
In 1994 a gunman carrying a bomb, took hostages at the main library in Salt Lake City. Off-duty sheriff's Lt. Lloyd Prescott secretly, and on his own, joined the hostages. Dressed in plain clothes, he kept a low profile until it became obvious the suspect was done negotiating.
Lt. Prescott explains, "He told the library lady to get some cord and to cut short pieces, at least one short piece and the others long, and the one who drew the short piece was going to be executed." Prescott then drew his gun, yelled for the hostages to hit the floor and shot and killed the suspect. No one else was hurt.
Blacksburg Virginia, 2007. "Everybody kind of went into a panic, didn't know what to do." Though dozens died, others survived, some only because of heroic or quick thinking actions. In one room a professor tried to hold a door, telling students to jump out a window. "Well I think I was actually the last to jump, the two people behind me actually got shot," he says.
It is stories of people finding ways to save lives and to survive themselves that intrigue people like Dr. Al Siebert. "You find your survivors are open to do anything," Siebert says.
Siebert, an Oregon psychologist who's written a list of self-help books based on survivor stories, believes they posses common traits. But he underscores he's talking only about people who are even lucky enough to get a chance. "I call it surviving the toss of the cosmic coin, and if you survive the toss of the coin, then you start looking around to see, 'what do I need to do in order to get through this?'"
Siebert says such survivors possess what he calls rapid reality reading: "accurately comprehending the new reality, even though it's totally unexpected, totally different than what you've ever been through before."
At Virginia Tech some adapted quickly to the new reality, by blocking a door with their feet while lying low on the floor. "He put two bullets into the center of the door thinking we were up against it trying to close him out. He reloaded his clip and I thought he was coming in for a second round but for the grace of God he just kept going."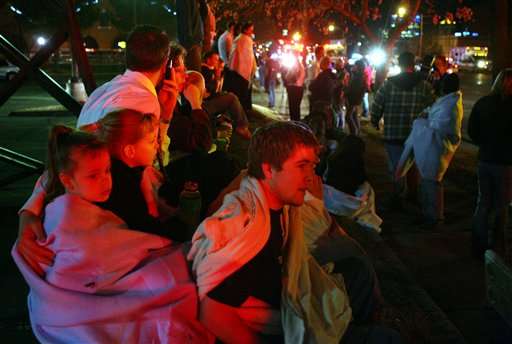 On 9-11, Siebert says reality rapidly became apparent to some onboard United Flight 93, who learned the full scope of their situation through unconventional means. "You have people who broke the rules by getting on their cell phones, and calling home and asking what's going on," Siebert says.
A willingness to break the rules at times is one of the specific traits Siebert claims a survivor personality uses almost instinctively. He says others include curiosity, confidence, and finding one's own personality above trained behaviors.
Tomorrow's continuation of this in-depth piece will take a look at more of the survival traits, and at how professionals are taught to survive life-and-death situations.
×
Related links
Most recent Utah stories