Estimated read time: 2-3 minutes
This archived news story is available only for your personal, non-commercial use. Information in the story may be outdated or superseded by additional information. Reading or replaying the story in its archived form does not constitute a republication of the story.
KSL Team Coverage A house was flattened by an explosion and two others were damaged by fire. Police say it was all caused by a homeowner bent on destruction.
The Salt Lake City Fire Department says Bruce Gann intentionally set the house on fire in a suicide attempt and he confessed to it. Gann told authorities he doused gasoline inside the home, took some sleeping pills to try to end his life, but instead the suicide attempt went awry.
The blast was enormous, completely wiping out the home near 600 East Wilmington Avenue (2200 South) and igniting two neighboring houses. The residents escaped without injury.
Neighbor Patty Bryant was watching TV at 10:00 p.m. when the house next door exploded. She said, "It just blew up, literally blew up and he ran from the house." She is talking about the homeowner, Bruce Gann.
Witness Chad Heitkemper said, "His head was full of singed hair. His beard was singed. He said he was OK and to leave him alone."
Heitkemper also said, "I saw him coming out of the house, in and out, like hysterical. A couple of seconds later I had heard the big explosion, [saw] him running out the front door with a head full of smoke," Heitkemper said.
Gann was taken to LDS Hospital and treated for injuries. He was released from the hospital this morning and booked into jail for aggravated arson.
Heitkemper said he had talked with the homeowner in the past. "He was talking about trying to take a mortgage out of his house, trying to do something to gain some money," Heitkemper told us.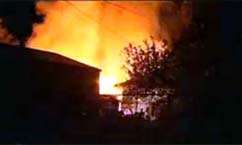 The home owner's wife is totally distraught. She said that there were a lot of problems. She indicated financial and emotional issues but wouldn't go beyond that. Apparently she was not living in the house with her husband at the time of the fire.
Firefighters paint an unbelievable picture of the scene. They say when they arrived around 10:15 Monday night, they found the home blown apart. Flames were shooting 50 to 60 feet into the air. It took 45 minutes to an hour for them to put out the flames. Twelve fire engines and three ladder trucks responded.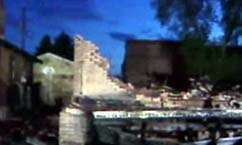 "When the first engine arrived they were overwhelmed with this situation, they had a home as you can see totally exploded two other houses involved," said Dennis McKone with the Salt Lake City Fire Department.
Neighbors said the explosion felt like an earthquake, and the home was immediately leveled as soon as the explosion took place. Bricks, pieces of glass and boards flew into the street.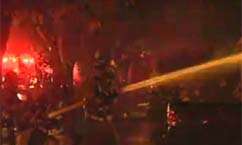 The home to the east of the one that blew up was heavily damaged. At least 60 percent of that house is destroyed, and the damage is estimated to be at least $50,000. The home to the west also has considerable damage.
×
Photos
Related links
Most recent Utah stories