Estimated read time: 2-3 minutes
This archived news story is available only for your personal, non-commercial use. Information in the story may be outdated or superseded by additional information. Reading or replaying the story in its archived form does not constitute a republication of the story.
Ed Yeates ReportingA 10-year-old Utah boy is getting ready to go to Florida to rendezvous with other kids, just like him, who have a rare genetic disorder.
In fact, when we say "other kids like him," that's exactly what we mean.
Jared Stowell may not be like every other kid on his block. But he is like others who share a genetic disorder called cardio-facio-cutaneous syndrome, or CFC. Though born from different parents, all look alike.
Jared's father, Kyle Stowell, said, "Other kids, [it's] just like they could be brothers and sisters."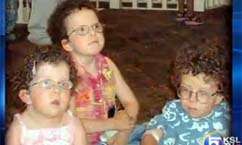 They have no eyebrows and are hairless except for curly hair, which all of them have. They have baby-like skin and wear glasses. Jared didn't have his on during our visit because they're broken.
Heart and speech problems are sometimes a variation of this anomaly. Fortunately, Jared has no heart defects. And he speaks well because of extensive therapy.
"He has a kind of an autism spectrum disorder. There's a brain condition where things are not wired quite right, and he has a fascination with certain things," his father explained.
Jared is very high-functioning. He loves words on WordPerfect. He's an excellent speller. And, he loves history. In fact, just ask him any question about the Titanic.
"Over a thousand people died," he told us. "The captain's name was Captain Edward John Smith."
Jared has read almost every book on the Titanic in his school and from the public library.
Oh, and did we say he likes designing things, too? He's a rarity, but ever so special.
He says when he grows up, he's going to design houses and study history.
John Opitz, the geneticist who discovered the CFC gene, now works out of Primary Children's Hospital.
There are 150 known cases worldwide. Babies can now be tested for the disorder.
×
Related links
Most recent Utah stories