Estimated read time: 2-3 minutes
This archived news story is available only for your personal, non-commercial use. Information in the story may be outdated or superseded by additional information. Reading or replaying the story in its archived form does not constitute a republication of the story.
Ed Yeates ReportingUndersea earthquakes are pushing islands upward and producing tsunami's that potentially threaten millions of people living on coastlines. That's why a Utah geologist and a team of researchers at Brigham Young University are developing a forecast diary on where the next big ones could hit.
Imagine what it would be like if in one sudden burst of energy, nature modified geography. That's what happened about three weeks ago on the Solomon Islands. An undersea earthquake produced a killer tsunami. At the speed of sound, the quake also thrust the west coastline upwards ten feet, pushing a coral reef out of the water. The coral is not only dying, but so is the tourist economy this island depended on.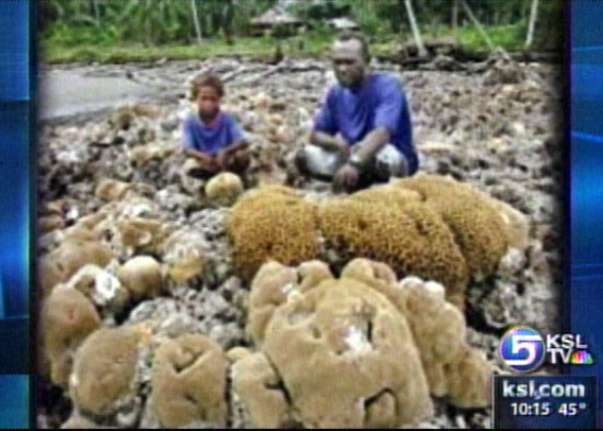 Ron Harris, with BYU Geophysics, said, "The beach was extended 70 meters from its normal position, so it now means that snorkeling and diving place people could go down and enjoy those corals is gone."
Harris is part of a consortium studying the undersea quakes, trying to outguess what nature will do next and where. The team is analyzing layer after layer of coral reefs, specifically those that make up a chain of islands, including the coastline of Sumatra, where a quake-generated tsunami killed 200,000 people.
"They lifted the corals out of the sea, and the coral died. And then the next event lifted the next coral out of the sea, and the coral died. So you can add up at least 31 events," Harris said.
From this may come a forecast model that in some cases dates back to 64 A.D. Preliminary evidence is already pointing to the coastlines of Java. "Thirty million people living on them. This is almost 10 times more than the amount of people who lived on the coast of Sumatra," Harris warned.
Harris says if such a model could forecast which coastlines will get hit next, then in that short grace period in between, you could educate and prepare the residents.
Historically, one large undersea quake triggers several other large events in a given region. Harris says that's what geologists are seeing now in Indonesia.
×
Most recent Utah stories