Estimated read time: 2-3 minutes
This archived news story is available only for your personal, non-commercial use. Information in the story may be outdated or superseded by additional information. Reading or replaying the story in its archived form does not constitute a republication of the story.
Ashley Hayes ReportingWe're used to seeing Utahns excel in winter sports like skiing and ice skating. But beach volleyball?
A man from Bountiful is chasing his Olympic dream by competing on the professional beach volleyball tour. He started playing when he joined an intramural team at the University of Utah.
Growing up as the youngest child in a family of 11 and living in landlocked Bountiful, Utah, it seems unlikely little Jake Gibb would find himself at the top of this beach game.
His sister, Laralai, said, "We thought he was a good golfer. We thought maybe golfing. And then summer he would do this volleyball stuff that nobody watches."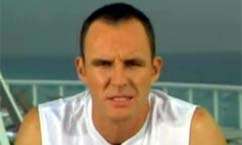 Maybe not in Utah. But people around the world are watching him now. And while no one predicted volleyball, everyone who knows Gibb will tell you he was going places.
His sister-in-law, Joy Givv, said, "I remember meeting him when he was 12, and he was a little full of himself."
Laralai described him as, "Just very fun. Very confident. We always thought he was too confident."
Gibb's non-defeatist attitude served him well.
"I guess I started when I wanted to play D-1 basketball, but I couldn't get on a team. So I started playing volleyball at that time, and I just grew passionate about it," he explained.
Gibb's love of volleyball set him up to find his other passion -- a fellow volleyball player, and now his wife and number one fan.
Joy Gibb said, "Without Jane there is no Jake, and that's all there is to it. She sacrificed tremendously."
Jake's wife Jane said, "I'm really, really proud of him. He works so hard. He doesn't have a coach to push him. He's just very self-disciplined."
"You know, I didn't play any college volleyball," Jake said. "All-Americans, Olympians, and here comes this little kid out of Bountiful, Utah. It's fun to compete against them."
He hates to lose, even when it might be in his best interest.
"He is so ultra-competitive it's very hard to just come out and play for fun," his family said. "So we'll win once in a while, but not very often."
The MVP from Bountiful is only a few bumps, spikes, and sets away from making his Olympic dreams.
Gibb is off to a good start. He came in second in the first match over the weekend. He plays again this weekend. You can catch Gibb playing on the AVP tour later this summer on KSL.
×
Related links
Most recent Utah stories