Estimated read time: 2-3 minutes
This archived news story is available only for your personal, non-commercial use. Information in the story may be outdated or superseded by additional information. Reading or replaying the story in its archived form does not constitute a republication of the story.
Shelley Osterloh ReportingA family in Kamas tonight has reason to celebrate. Two little girls recently adopted from Russia are now U.S. citizens. More than that, they are part of a family they had dreamed and prayed for. The family has adopted four siblings and reunited sisters who were separated for years.
Fifteen-year-old Emily and her 14-year-old sister Annie have new American names and certificates of citizenship.
John Simmons, their adoptive father, said, "Nobody can lead a life unchanged after watching kids leave an orphanage and come into a family and to watch them appreciate a family like nobody else can."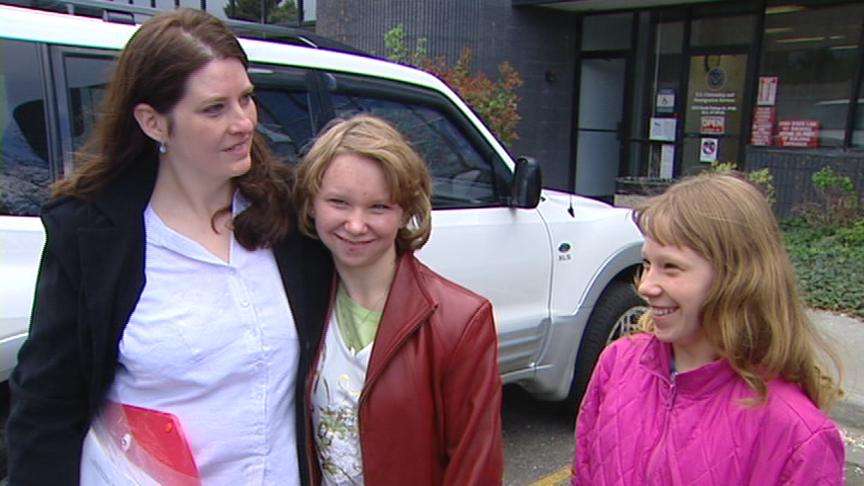 The two girls were reunited with their two younger sisters last October. The Simmons had three biological sons before they adopted Jack, who has Down Syndrome. Then, in 2005, the Simmons adopted three orphaned children from Russia, little Celeste and Sarah who are sisters, and a boy, Denny, who was not related.
They were completing the adoption for the younger children when they learned of the two older girls, and though they did not plan to adopt more, were haunted by the thought of the two sisters still living in a Russian orphanage.
"Is this something we can do? Something we can do to help out because the odds of their survival is very bleak in Russia for them," Amy Simmons wondered.
In Russia the girls were taken from their biological parents because of abuse and neglect, but now they're reunited and are part of loving family, and they are flourishing.
The Simmons says international adoption is an emotional rollercoaster, but seeing their happy family makes it all the more worthwhile.
John said, "You go through the extremes in frustration, the extremes in anger, sadness and happiness, and it's just incredible."
"And for them to be able to be with their sisters and to have the opportunity to have a very full productive life, is wonderful to see," Amy said.
Now this family of 11 shares a life of hope, happiness and most of all, love. The Simmons hope that others will consider international adoption, and they have just completed a book about their experiences, called "The Marvelous Journey Home."
×
Related links
Most recent Utah stories