Estimated read time: 2-3 minutes
This archived news story is available only for your personal, non-commercial use. Information in the story may be outdated or superseded by additional information. Reading or replaying the story in its archived form does not constitute a republication of the story.
John Daley ReportingA man beaten in an assault at a downtown bar says he was the "victim of a hate crime." He was testifying in the trial of three white supremacists accused of conspiring to strike fear into non-whites.
A bartender at O'Shucks, who was beaten up New Year's Eve 2002, took the witness stand today. Jimmy Ballesteros described a group of white men coming into the bar and handing out stickers from the white supremacy group the National Alliance saying "Stop Immigration: Non-whites are turning America into a Third-World slum...let's send them home now."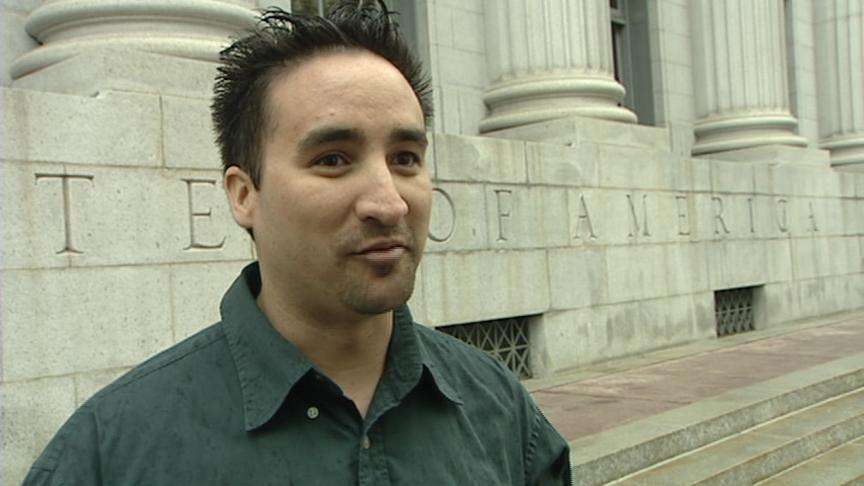 Ballestros was asked where he was from. He replied "America." He said he was born here and is partly of Mexican descent. The men began hurling racial epithets. Ballestros asked the group of four or five to leave. He was grabbed and badly beaten while one member of the group held the front door shut so other people inside the bar couldn't come help him.
Ballestros said, "I was held from behind, so it was very difficult to defend myself, but I kept very low. I kept my fists around my head and they were beating me all around...Constant, constant racial slurring going on."
Ballestros went on to say, "It's upsetting. Depressing, number one. I mean I grew up in white suburbia, you know. I lived in Orange County, I lived here in Salt Lake City. I listen to rock n' roll. You know, I have no problems with anybody. And uh, it didn't even occur to me that I'd ever be a victim of a hate crime, but here it is, here we are."
Prosecutors say the group attacked a Native American man in similar assault at Port O'Call three months later.
Attorneys for the defendants say their clients are innocent. They said that it was just a bar brawl and that the main instigator was another man who is expected to testify for the prosecution.
Tomorrow morning one member of the group, who is now cooperating with prosecutors, is expected to testifying against his former friends.
×
Related links
Most recent Utah stories