Estimated read time: 2-3 minutes
This archived news story is available only for your personal, non-commercial use. Information in the story may be outdated or superseded by additional information. Reading or replaying the story in its archived form does not constitute a republication of the story.
Samantha Hayes ReportingSalt Lake County sheriff's deputies are investigating a case of vandalism. And you could say this time they have a right to take it personally because graffiti was sprayed on their station in Kearns.
A grass roots effort to clean up graffiti in Kearns has been getting a lot of attention by state politicians, and it's been in the news. Detectives wonder if marking their building is a bold form of retaliation.
Sorenos 13 is a gang well known to investigators, and it seems after this weekend perhaps the gang likes it that way.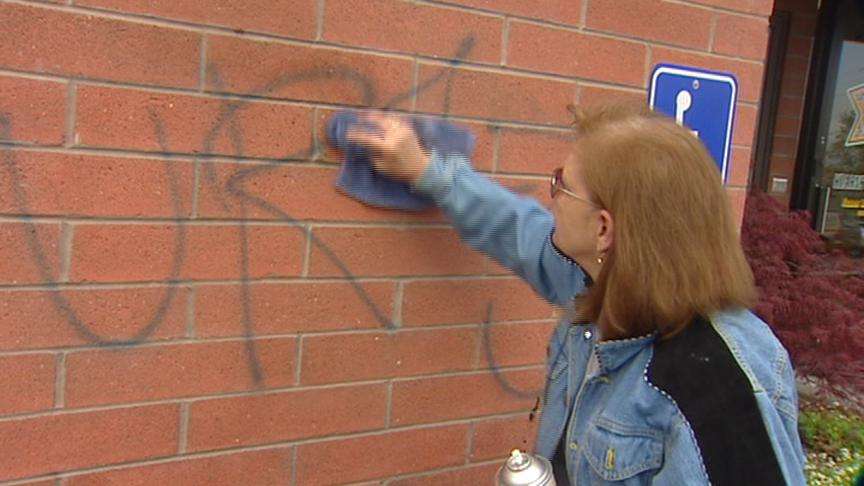 Salt Lake County Sheriff's Office Captain Dave Burdett says, "I think it's a pretty bold move. They painted it right underneath our sign." He also says that they will work with both the metro gang unit and school resource officers to find the person responsible. "If someone is this bold, they have the same personality that will be talking about it. "
A surveillance camera captured this blurry image of someone running across the parking lot early Sunday morning.
It is not uncommon for gangs to mark territory and retaliate against each other, but in this case it may be retaliation against the larger community. Volunteers have organized to remove graffiti and their efforts are getting a lot of attention.
Investigators say they have seen more graffiti this spring, perhaps a sign of a turf war among gangs, but the sheriff's department and citizen groups are determined to clean it up.
Cathy Harding with the Kearns Crime Prevention Association says, "To me it looks like retaliation. 'We are going to get the best of you. You are going to clean it up and now we have a clean slate to work on.'"
But Cathy Harding is determined to keep that community slate clean. She is the woman behind Kearns Crime Prevention. She says, "Honestly, it's not discouraging to me. I think we are seeing the benefits of our trying to clean this weekend and last weekend. I think we will still continue to do this."
×
Most recent Utah stories