Estimated read time: 2-3 minutes
This archived news story is available only for your personal, non-commercial use. Information in the story may be outdated or superseded by additional information. Reading or replaying the story in its archived form does not constitute a republication of the story.
John Daley Reporting Thousands of people in Utah joined many more around the country today in demonstrations aimed at turning attention to the issue of global climate change.
This idea started with some college students in Vermont. They created a Web site, began posting blogs and sending e-mails about today's event. Before long, demonstrations were planned in hundreds of cities, including Salt Lake City.
The mood is high-spirited and fun but the music, by Los Lobos, isn't just for entertainment. It's designed to motivate, as part of a larger mission.
This is one of 1,000 events for the National Day of Climate Action, a call to arms to fight global warming.
Provo resident Gary Bryner said, "The primary message is that climate change is an extremely important issue for us and for future generations. There are all kinds of things that can be done in terms of clean energy, energy efficiency and renewable energy that make sense for lots of reasons in addition to climate change."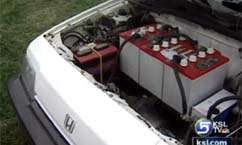 Some came to promote promising new developments, like a Utah County company turning gas-burning cars into electric plug-ins.
Brian Berrett of Wilderness Electric Vehicle said, "My belief is that grassroots is really the only way stuff like this is going to make a difference. You've got to get enough people aware and actually driving these things to make a difference."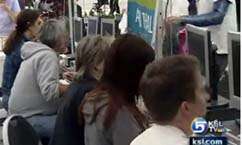 Others hopped on the computer to send a message to President Bush, Congress, the governor and state lawmakers.
Melodee Lambert, of Murray, said, "I'm very, very concerned about what we're doing to the world for us and our children and grandchildren."
Scientists say human-caused global warming is already touching many parts of the planet, from melting polar ice caps and glaciers to rising ocean levels. A recent report warned of shrinking snowpacks in our region and the danger of permanent drought conditions.
In more than 1,000 U.S. cities today, from Washington, D.C., to Seattle, people turned out for rallies, urging Congress to cut carbon emissions from cars and power plants 80 percent, 2 percent a year by the year 2050. Activists say they hope to build a robust environmental movement that'll inspire change.
Jordan Gates, environmental adviser to the mayor, predicted, "I think they're going to have to listen, when you have people all over the country taking part in events like this, sending a clear message to take action. It's absolutely unavoidable. They're going to have to."
The crowd today was estimated in the thousands. The Los Lobos concert turned out to be a great deal. It was free, and no one complained about that.
×
Most recent Utah stories