Estimated read time: 1-2 minutes
This archived news story is available only for your personal, non-commercial use. Information in the story may be outdated or superseded by additional information. Reading or replaying the story in its archived form does not constitute a republication of the story.
Ashley Hayes ReportingResidents of a Holladay apartment complex wake to the sound of fire trucks and police cars. They were forced outside in their pajamas and slippers, because of a fire.
The fire started in an apartment at 4100 South 465 East around 3:00 this morning. The fire woke up most, if not all, of the residents.
Brian Reynolds said, "We heard them yell 'Fire!' So I got up to see what was going on. I went into our computer room and the window was glowing orange. So I pulled the shades up and there was the fire next door."
One woman got burned on her feet and back. Investigators think she was burned while trying to put on clothes before leaving the apartment. Her injuries are minor.
Shirl White, an investigator with Unified Fire, said, "There is a possibility that whenever someone takes extra time to get out of a burning building [there is] the chance of more serious injury. I don't know that that's the case, but the fire looks like it was close to where she was trying to get dressed."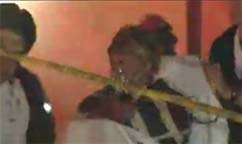 One woman went to the hospital with burns on her feet and back. As many as five will have to find a new place to stay for awhile.
Crews contained the fire to one apartment, but other units may have some smoke damage.
Investigators are still trying to figure out how the fire started.
×
Most recent Utah stories