Estimated read time: 3-4 minutes
This archived news story is available only for your personal, non-commercial use. Information in the story may be outdated or superseded by additional information. Reading or replaying the story in its archived form does not constitute a republication of the story.
SANTAQUIN -- After years of serving her community, a woman is now the recipient of that service. Residents in Santaquin have rallied around 36-year-old Amy Jackson, who a little more than a month ago was diagnosed with a rare cancer.
Amy says serving others is something she has always done, whether it was at the local school, for the city, or in her own home. Now she has very little time left and hopes that spirit of service will continue long after she's gone.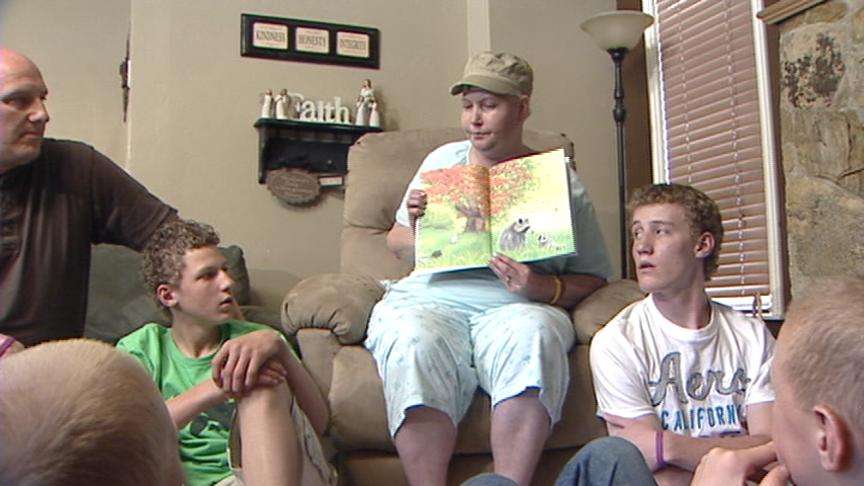 Surrounded by her husband and five of her six children, Amy Jackson reads one of her favorite books, "The Kissing Hand," by Audry Penn.
Amy says moments like that matter the most. She didn't realize just how important they were until about a month ago.
On April 15, Amy woke her husband Gary in the middle of the night because she knew something was wrong.
"He got up and got out of bed and came over. We were just talking and I kind of coughed a little. I coughed up a blood clot," she says.
That night, doctors discovered Amy had a tumor in her lung. After a few more tests, the news got worse.
"They went and did an MRI and that's when they came back and found that I had 33 lesions in the brain," she explains. "They stopped counting at 33."
Amy was diagnosed with adenoid cystic carcinoma, a rare cancer with a mortality rate of 2 percent. She was told she had one to three weeks to live if she chose not to do radiation. Additionally, the Jacksons don't have insurance and the medical bills began piling up.
What is... Adenoid Cystic Carcinoma?
Adenoid Cystic Carcinoma (ACC) is a rare malignancy of the head and neck, typically originating in the salivary glands. Approximately 600 new cases of ACC are diagnosed each year in the United States. This cancer has a slow and sometimes relentless progression characterized by frequent recurrences. ACC is one of the very few cancers that infiltrate and spread along nerves. ACC has no known causes. Standard treatment for ACC involves surgery followed by radiation. Currently, there are no drug therapies that have been proven to be effective in a large portion of ACC patients. - Adenoid Cystic Carcinoma Research Foundation
Word spread quickly about their situation. Within hours, the Santaquin community sprang into action.
Amy's friend, Brenda Shup, says, "I just thought, if we're going to do this, let's do it big."
Friends organized a yard sale and bake sale less than a week later. Hundreds of people showed up and thousands of dollars were raised. A week after that, a 5K was underway. More than 500 people participated.
"I sat out on the front porch in my recliner and watched it," Amy says. "It was amazing."
Gary says, "Just the support was absolutely incredible."
Gary says his wife is known for her service. She's served on almost every city committee and has been named citizen of the year. A few weeks ago she helped with the Miss Santaquin pageant and was given an honorary crown.
But even with all the service Amy has given, Gary never expected to have it returned.
"I've learned that service is what it is all about," he says. "She has touched so many lives in so many ways and everyone she comes in contact with feels that they're a true friend."
Amy says they are her friends. She says she loves the community and has enjoyed being a part of it. She now hopes her children will remember what it means to serve, even after she's gone.
"I just can't get over the love that I have for this town and the people and all they have done for us. It's just been amazing. I have just been so touched by it," she says.
The acts of service continue for the Jackson family. Friends are helping Amy put together scrapbooks and journals for her children. Also, the Life's Wish organization sent the family to Disneyland last week.
E-mail: spark@ksl.com
×
Related Links