Estimated read time: 4-5 minutes
This archived news story is available only for your personal, non-commercial use. Information in the story may be outdated or superseded by additional information. Reading or replaying the story in its archived form does not constitute a republication of the story.
John Daley ReportingThe controversy over Utah's school voucher program has generated a lot of public and private debate. Now, Eyewitness News has discovered that some heavy hitters with big checkbooks are making sure their side of the issue is heard.
We followed a money trail that led to the likes of Wal-mart, Amway, Overstock.com and others. We followed the money, looked at contribution filings and found there was plenty of campaign cash on both sides of the voucher debate. Money on the pro-voucher side was in much bigger sums, half of it coming from out of state.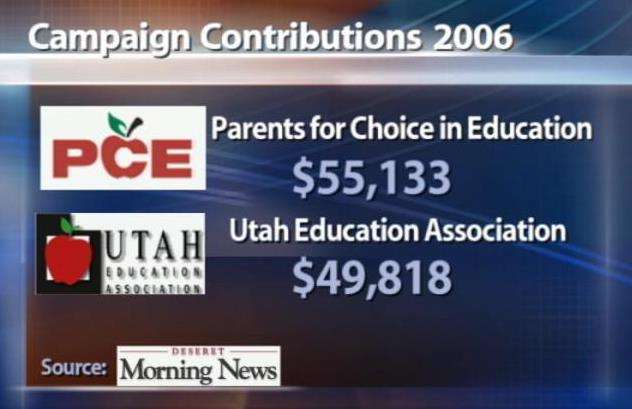 A big push is on to repeal, via referendum, the law creating a groundbreaking $3,000 per child school voucher program, which passed by one vote in this year's most dramatic Capitol Hill battle.
In February, Representative Brad Last said, "To every single one of you who wants to lynch me right now, I say don't talk to me until you read this bill, and don't talk to me until you do."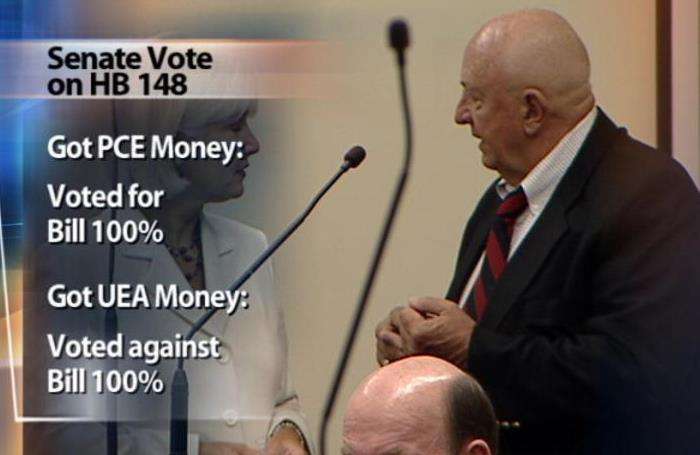 The fight pitted two political powerhouses and top five Utah campaign contributors, pro-voucher group Parents for Choice in Education and the Utah Education Association, the teacher's union. That campaign money translated into remarkable loyalty. In the Senate every lawmaker who got money from the pro-voucher group voted for the key bill creating vouchers. Those getting UEA money all voted against.
In the House there was a similar show of loyalty to the side that gave the money -- 96 percent who got money from the pro-voucher group voted for and 78 percent who got money from the other side voted against.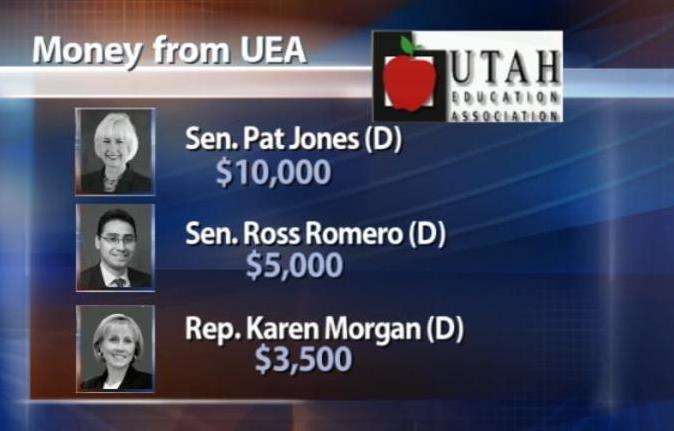 Karen Hale, a former Democratic lawmaker said, "Yeah I think we can connect the dots when we see that money coming in and seeing what happened in the vote in the legislature."
Pro-public school money generally went to Democrats. Pro-voucher donations generally went to Republicans, including GOP House Speaker Greg Curtis, who by many accounts used his considerable clout to pressure some members to vote Yes.
In several stories we've done on the influence of campaign money on House votes, Speaker Curtis has declined our request for an interview. He did so on this story, too.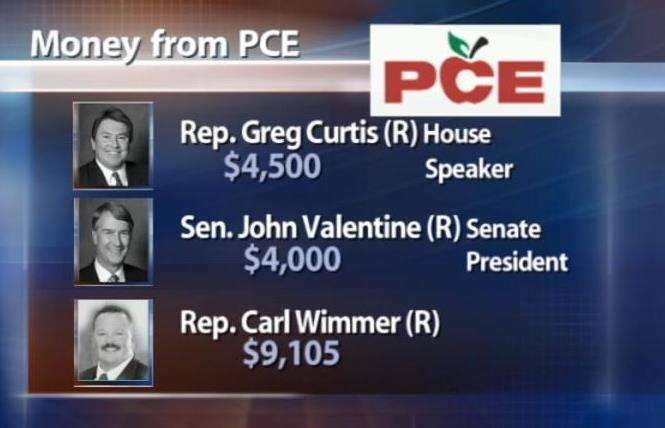 The biggest financial force in the voucher fight is a national pro-voucher organization called All Children Matter, based in Michigan. Its funders include the son of a former Amway billionaire and an heir to the Wal-mart fortune.
The political action committee for Parents for Choice in Education took in half a million dollars last year; half came from out-of-state, $240,000 from All Children Matter.
Sen. Pat Jones said, "Why should well funded people out of state care about Utah's school system? What is in it for them?"
Matthew Burbank is a political science professor at the University of Utah with a possible answer to that question. "Why would people outside of the state of Utah be interested? Well one of the reasons is that this creates a precedent."
We found most of those opening their wallets have a philosophical stake in the issue, including Patrick Byrne, founder and CEO of Overstock.com, who gave Parents for Choice $80,000 last year.
Byrne said, "The teacher's union has a far bigger advantage, they have far greater funds. They've outspent the pro-voucher people by enormous ratios everywhere this has come up."
Bryne, a self-described libertarian, says education would be better with more competition, which he says unions and Democrats oppose. "The democratic party has been largely hijacked by the teachers union. And the teachers union has such a strong voice. They want to protect their guild, they want to protect their monopoly, they don't want to have any competition."
With a referendum vote looming, the two sides continue to debate the impact of money.
Pat Rusk the former UEA president said, "The difference to me is that we have a lot of teachers giving five or six dollars versus five or six people giving a lot of money.
Overstock.com's Patrick Byrne gave plenty of money in the last governor's race too -- $75,000 to the campaign of Governor Jon Huntsman, who ultimately signed the school voucher legislation. His office told KSL that campaign contributions had no influence on his decision.
Our calls to All Children Matter, the pro-voucher group in Michigan, were not returned.
×
Most recent Utah stories