Estimated read time: 2-3 minutes
This archived news story is available only for your personal, non-commercial use. Information in the story may be outdated or superseded by additional information. Reading or replaying the story in its archived form does not constitute a republication of the story.
Jed Boal Reporting By this time in spring, most of us have spent time working in the yard and planning projects for the summer. A new council of landscaping experts today urged all of us to make water conservation a key part of that plan.
During Capitol reconstruction the entire lawn was torn up. The grass is back, but the lawn won't waste as much water as the old one, and there are lessons here for all of us.
It's a big job to resod the Capitol grounds, and it takes a lot of water to keep the grass green in the heat of the summer. But these workers are installing a drought-tolerant variety of bluegrass that's not as thirsty as traditional sod.
Utah Evergreen Council turf grower Randy Marble says, "you can save water and still have our beautiful lawns and beautiful landscapes."
When the state resodded the capitol's lawn, it also put in a soil moisture sensor and a rain shut-off valve that will greatly improve the efficiency of the entire lawn.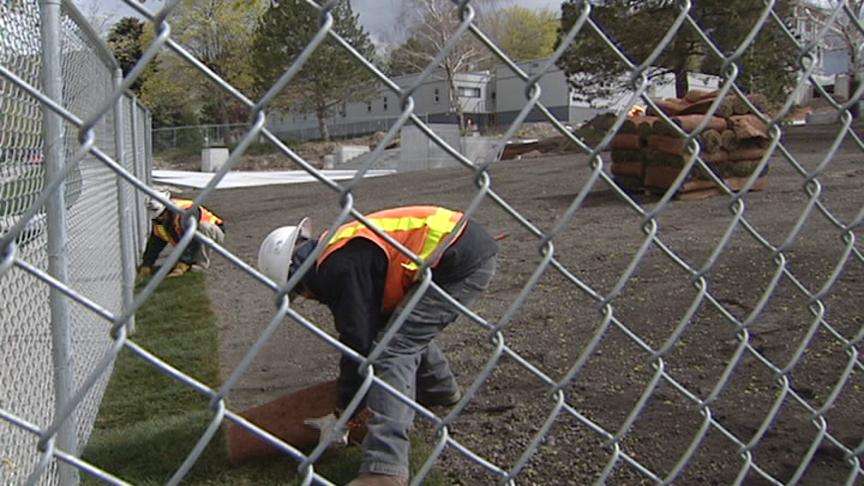 Sterling Brown of the Utah Farm Bureau Federation explains, "Proper water use management is not only a way to save money, but a way to help the environment."
The Utah Evergreen Council is a coalition of Utah turf growers, nurseries and landscapers. They say green lawns don't have to waste water.
As a state, we use two-thirds of our treated water outdoors. The average Utah home wastes about half of that water through inefficient irrigation. If we water more efficiently, we can cut water consumption by 25 percent this year, and that's the state's long-term goal.
"All we have to do to do that is to tune up our sprinkler systems and install new turf, trees, flowers," explains Marble. "All those things that we enjoy."
The professionals urge all home owners, property managers and landscape workers along the Wasatch Front to leave the sprinklers off for now. "We should not have to turn sprinklers on until the middle of May this year, and then only if you see your lawn coming into stress," Marble says.
The Evergreen Council says we don't have water to waste any year and especially in a dry year like this one.
For more information, check out the links found at the right of your screen.
×
Related links
Most recent Utah stories