Estimated read time: 2-3 minutes
This archived news story is available only for your personal, non-commercial use. Information in the story may be outdated or superseded by additional information. Reading or replaying the story in its archived form does not constitute a republication of the story.
Gene Kennedy & John Daley ReportingMore than 100,000 signatures were gathered to force a vote on the school voucher issue. The group Utahns for Public School needed 92,000 signatures. They say they gathered 131,000 signatures, including those from more than the required 15 of 29 counties.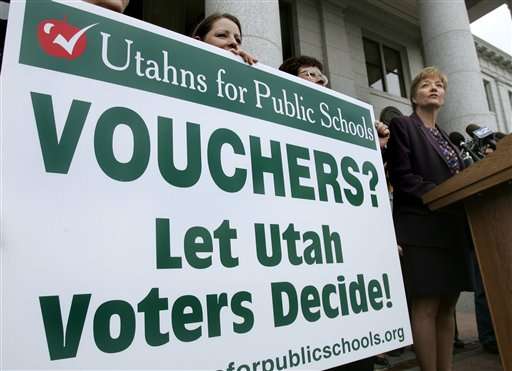 They've got to get the signatures into the various clerks in counties across the state. If the signatures are legitimate, the school voucher issue would go to a public vote, and the people of Utah would decide if they want public money paying for kids to go to private schools.
Kemmer Evans, who supports the petition, said, "I personally would like the chance to vote on it because I think it's an important issue that, you know, we're talking about public money, and I think people should be able to decide where it's going and who gets to use it."
Larry Mantle, who signed the petition, said, "I don't believe public money should be funding any type of private schooling. So I think it should go to a vote, my personal opinion."
Marni Litvack also supports the referendum. She said, "I think in this case they passed something that the community wasn't necessarily interested in and didn't support, so I think this is a great opportunity for people to express their opinions."
"I think parents should have the ultimate say in where kids go to school," said Caeser Falcon.
Both backers and opponents of the new voucher program say the other side is spending big bucks on their effort. Opponents claim a series of pro-voucher TV ads cost in the range of $200,000, something backers deny. A spokesperson says she didn't have that figure.
Voucher supporters say the UEA and PTA are getting heavy assistance from the NEA, the National Education Association. Utahns for Public Schools insists it's been a volunteer effort, with about $13,000 raised, mostly for photocopying.
On the other side of this issue is a group called Parents for Choice in Education. Nancy Pomeroy is the communications director for the organization. She says, "We're surprised that it was this much of a struggle, actually, with 30,000-plus public employees and almost 20,000 UEAE-ers plus the PTA, which is the UEA under another name. Yeah, we just thought they would walk across the living room floor and get the signatures."
Former Democratic legislator Karen Hale says, "This was a volunteer effort, and that is one of the amazing feats of this whole effort as well. That this is truly a groundswell, a grassroots effort for people who are concerned about the direction we're going."
Expect the most expensive part of the battle to come later, with a court fight over the petition effort.
The county clerk's office has until April 24 to verify signatures, then turn their numbers over to the lieutenant governor's office to determine when it would go on the ballot.
×
Most recent Utah stories