Estimated read time: 2-3 minutes
This archived news story is available only for your personal, non-commercial use. Information in the story may be outdated or superseded by additional information. Reading or replaying the story in its archived form does not constitute a republication of the story.
John Daley Reporting Utah's snowpack, the crucial mountain storage for the state's water supply, is exceedingly low across the board. In fact, it mirrors conditions from the drought earlier this decade. That news comes as a new climate report warns of potential dustbowl-like conditions coming to the West.
You can see the problem just by looking up to the mountains. There's snow up there now but not as much as there should be for early spring, and new climate models predict our region is likely to grow hotter and drier.
On a normal day in early April, usually there's plenty of snow in the mountains of northern Utah, especially at higher elevations. That snow supplies the state's lifeblood--its runoff. This year, snow surveyors say snowpack is meager all over the state.
Ray Wilson of the Utah Snow Survey says, "The amount of bare slope clear to the top of the mountains on the south facing slopes and valleys, that sagebrush would normally be covered. Almost the entire sagebrush was visible."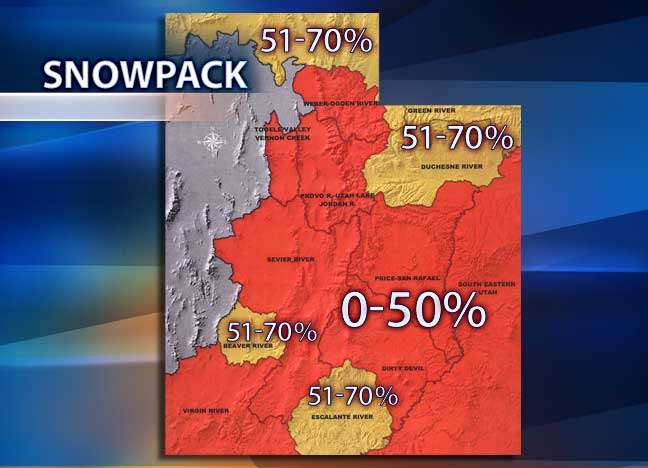 All snowpack is less than 50% statewide and in southeast Utah it's a mere 6%. Statewide it's 49% of normal, which is the lowest on this date since comprehensive data first was recorded in 1970.
Stephanie Duer is the Salt Lake City water conservation coordinator. She says that Utahns can expect a renewed call to conserve. "I guess what this means is that the message we keep delivering, which is regardless of a single year's snowpack, we have to think about how we use water, every day, every year, every season."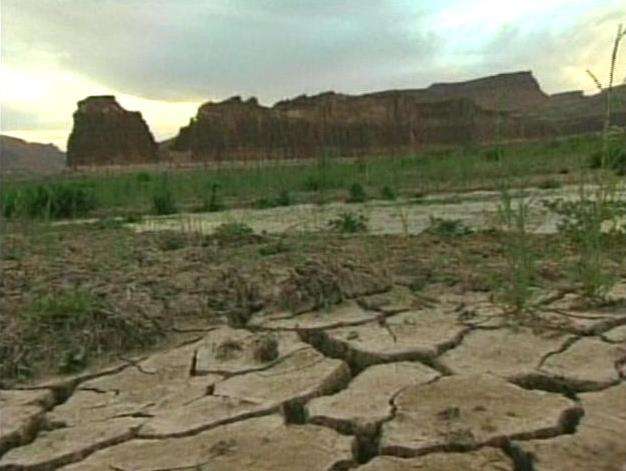 The bright spot is that the reservoirs are mostly full after two wet winters. But a new climate report in the journal "Science" based on evidence from 20 independent climate studies indicates global warming will permanently change the climate of the American Southwest and dust bowl-type droughts will become more common, presenting huge challenges when it comes to farming, wildfires and a rapidly growing population.
The study's co-author, Yochanan Kushnir of Columbia University, says "The drought is continuing, the drought is persisting and not going away."
Ray Wilson of the Utah Snow Survey says "it sure makes you wonder. I'm not an expert on global warming, by any means. But it just seems like the snowpack is melting earlier than normal."
Competition for water is already heating up throughout the West.
The Colorado River, for instance, provides water to more than 20 million people in seven states. The trends show there's less snow in the mountains and less water in the rivers, but more people who need it.
×
Most recent Utah stories
More stories you may be interested in