Estimated read time: 2-3 minutes
This archived news story is available only for your personal, non-commercial use. Information in the story may be outdated or superseded by additional information. Reading or replaying the story in its archived form does not constitute a republication of the story.
Jed Boal ReportingPresident Bush and congressional Democrats are on a collision course when it comes to Iraq spending. The House and Senate are pushing the president for troop withdrawals.
We asked Utahns tough questions today at a difficult juncture in the war. A majority still support the president's handling of the war, but a growing number think Congress is on the right track.
Both the House and Senate have passed bills to pay for military operations in Iraq and Afghanistan. But, President Bush threatens a veto because they include timelines for pulling out U.S. troops.
One community member told KSL, "If it's going to hurt the troops that are over there, it's not a good idea. If it can help resolve the problem and get more people home safely, it's a good idea. But there's a big argument there about which way it should go."
We polled Utahns about the congressional bill requiring President Bush to begin withdrawing troops from Iraq and ending combat in a year.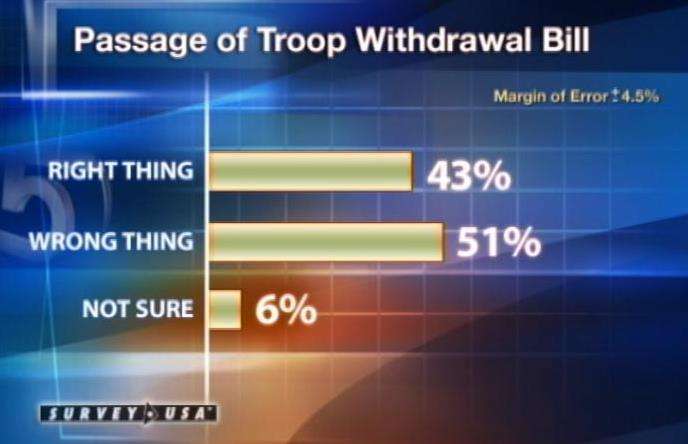 Forty-three percent think passing this bill was the right thing to do. A slight majority think it was the wrong thing to do.
Here are some of the opinions offered on the subject:
"I understand the point of the bill. But, we have to stay and finish the job."
"We're not doing much good any more. Sometimes you need to cut your losses."
"I think it was totally inappropriate. You don't interfere with the Commander in Chief's discretion to run a war."
As for the president's troop surge strategy, more than 50 percent of Utahns polled still favor it. According to two more people on the street:
"They need more help over there to get it under control, but they need to come home, once it's under control."
"The goals are still noble, but I don't have a lot of confidence it will work."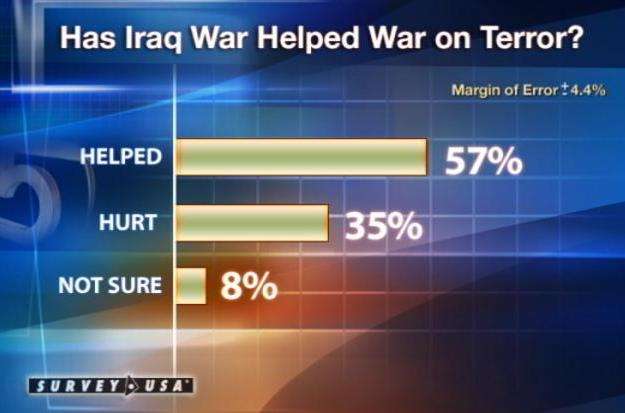 When it comes to the war on terrorism, 57 percent think the war in Iraq has helped in those efforts, while 35 percent say it has hurt. Opinions here vary as well:
"It's probably hurt. I think the possibilities for further terrorism are probably as great, if not greater, than before."
"It's created a lot of ill will for us, but it was a job that had to be done. You don't cut and run when faced with a big challenge. You stand up and do what has to be done."
The president asked Congress for more than $100 billion for Iraq and Afghanistan nearly two months ago. Congress left for spring break before House and Senate negotiators could start to reconcile the different versions, so there's still more work to do on Capitol Hill.
×
Most recent Utah stories