Estimated read time: 2-3 minutes
This archived news story is available only for your personal, non-commercial use. Information in the story may be outdated or superseded by additional information. Reading or replaying the story in its archived form does not constitute a republication of the story.
Shelley Osterloh Reporting A government report says drivers are paying an average of nearly $2.71 a gallon for regular gasoline. Utahns are paying about ten cents less than the national average.
But it's the ninth straight week where the gas prices have gone up, and drivers are starting to feel the pinch. The price for regular gasoline in Centerville is $2.65 a gallon.
Prices seem to go up every year just in time for the summer driving season. "Well in the past couple of weeks, I've noticed it's gone up probably 30 to 40 cents a gallon, which is a pretty big spike, but it's just recently. Don't know what's driving that," says Matt Larsen, a driver from Centerville.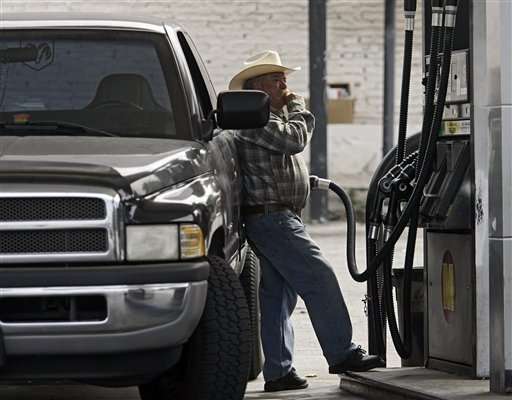 Industry analysts say one reason is that in March refineries and gas stations switched from a winter gasoline formula for cold-weather driving to a summer formula. "Well the summer formula is more expensive, and it basically reduces emissions. This is the time when they have to stockpile for the summer driving season. And so they buy more crude oil which of course pushes prices up," says Rolayne Fairclough of AAA of Utah.
Utah gas prices tend to rise and fall a little behind national prices, so we can likely expect to see them continue to rise.
The average price in Utah for regular gasoline is $2.60, a jump of 37 cents in just a week, and 28 cents more than prices a year ago. The average price in the Salt Lake/Ogden area is $2.54, a little less than the average price in Provo at $2.58.
Craig Axford says rising gas prices are why he drives a car that gets 35 miles to the gallon. "Yeah. I definitely plan on staying away from SUVs. I've owned one before, and I don't plan on buying one again," says Axford.
Chris Merrill drives a big diesel truck and commutes from Utah County to Salt Lake for construction work. He says paying $70 or $80 a week for gas adds up. "It affects the whole economy because I've got to charge more money for what I do to be able to pay for my rising gas prices; and other people have to do that, and it just really compounds the problems, especially in construction."
AAA of Utah reminds us that to get the best gas efficiency from your vehicle, it's a good idea to keep it well maintained, with clean filters and to check your tire pressure. A low tire won't give as good of gas mileage. Plus, consumers may want to shop around for a low price.
×
Most recent Utah stories