Estimated read time: 2-3 minutes
This archived news story is available only for your personal, non-commercial use. Information in the story may be outdated or superseded by additional information. Reading or replaying the story in its archived form does not constitute a republication of the story.
Tonya Papanikolas ReportingUtah's homeless population finds it more difficult to obtain mental health treatment because the state has stopped funding many programs. But doctors who work with the homeless say most patients have survived traumatic experiences in their lives.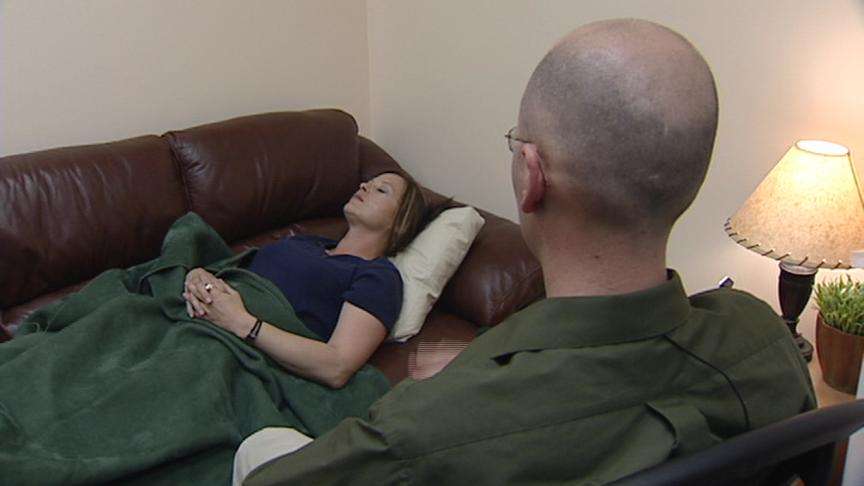 A new pilot program to help ease psychological pain could potentially help bring more homeless people off the streets.
Lisa Dorius comes to the 4th Street Clinic once a week for trauma therapy. Lisa was stalked and raped seven years ago and says she didn't know how to deal with the fear that permeated her life.
"Over this last seven years I've been on edge, and in a cycle of panic," she said.
She eventually turned to drugs to try to numb the memories.
"I've gone back and forth from substance abuse to being a workaholic," she said.
Lisa lived in shelters, where she went through substance abuse treatment. When therapists started a trauma clinic for the homeless, Lisa jumped on board.
Trauma therapist Dr. Robert Bagley explained, "We need to have some healthy ways that you can deal with anxiety."
Therapists treat the part of the brain where painful memories are stored. To do this, they use techniques like tapping acupressure points on the body and deep relaxation and hypnotherapy.
Therapists say the majority of the homeless have gone through severe physical or emotional abuse, and doctors are seeing great results from treating the root of the problem.
According to Dr. Bagley, "In some cases, people are getting better to the point where they can start getting employed again and start moving forward, so they're not chronically homeless."
By the end of today's exercises, Lisa's anxiety had diminished from a nine to a five. She says over time the therapy has helped her let go of the pain from the rape.
"It helped me to not be fearful," she told us. "I've never been this calm ever in my life."
She says that makes all the difference in dealing with life's challenges in the future.
The director of the clinic raised enough money to fund the program for a year. But the therapists hope to find a way to continue the clinic beyond that time and replicate their model throughout the country.
×
Most recent Utah stories