Estimated read time: 1-2 minutes
This archived news story is available only for your personal, non-commercial use. Information in the story may be outdated or superseded by additional information. Reading or replaying the story in its archived form does not constitute a republication of the story.
Sam Penrod Reporting A Utah County couple are on their way back home. A day trip turned into an overnight camp out when they became stranded in the west desert.
The couple went on a rock hunting trip Sunday morning. Their daughter called search and rescue Monday morning after they didn't come home. Their unexpected adventure is now over, after searchers found them Monday evening in a very remote area.
Dennis and Donna Davis enjoy driving in their yellow SUV to see Utah's scenic areas. But Sunday while on a rock hunting trip in Utah's west desert near Simpson Springs, their vehicle got stuck in the sand.
Dennis Harris of the Utah County Sheriff's Office warned, "You've got to be really careful because it's desert, a lot of sand, you start getting off the main roads. It's very easy to get stuck."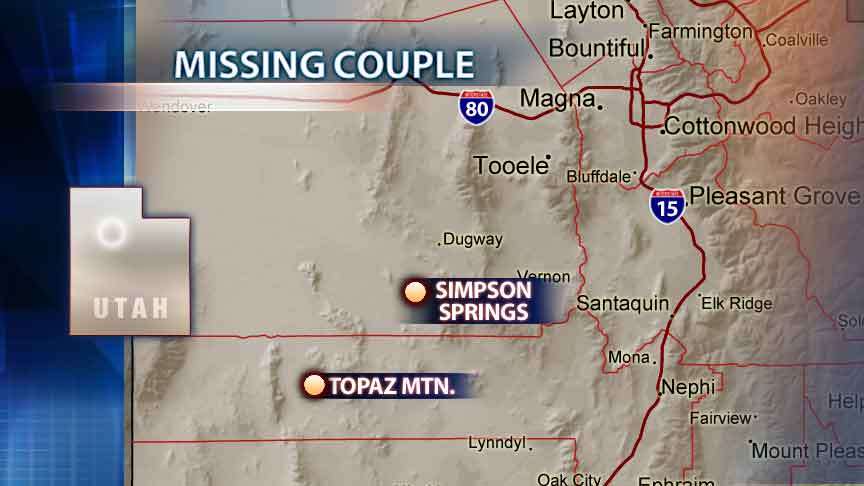 There is no cell phone coverage in the area where they got stranded. Authorities say the couple did the right thing by staying together with their vehicle, which made it easier for them to be found.
With better weather attracting more adventure-seekers to the outdoors, authorities are encouraging everyone to be prepared when they travel. Take extra food and water. Other basic provisions can come in handy, too.
"Road flares, first aid kits," Harris suggested. "Have a little bit of warm weather gear. Even if it is in the summer, it's better to be safe than sorry."
And most importantly, leave specific directions with family or friends about where you are going and when you'll be home. That way if you are overdue, searchers will know where to start looking. In most cases it means you will be found much faster.
×
Most recent Utah stories