Estimated read time: 2-3 minutes
This archived news story is available only for your personal, non-commercial use. Information in the story may be outdated or superseded by additional information. Reading or replaying the story in its archived form does not constitute a republication of the story.
Ed Yeates Reporting Surgical teams are making final preparations for a critical transplant early tomorrow morning. Tomorrow will be a big day for formerly conjoined twin, Maliyah Herrin. She will get a kidney from her mom, Erin. Erin is a perfect match for her daughter.
Maliyah and Kendra celebrated their fifth birthday in February. The two girls, once joined but now separated, got their own three-wheelers. But tomorrow, Maliyah will get a new kidney. And she's ready.
And so, the Herrins get ready for this special exchange early tomorrow morning. At the University of Utah Hospital here, little more than an hour ago, Maliyah was going through her last dialysis.
Primary Children's Medical Center transplant team member Dr. John Sorensen says, "She's got an incredible insight into what's really happening to her. She's precocious in that regard. She's excited, she wants to go ahead. She doesn't necessarily like surgery, doesn't necessarily want to have another operation, but she definitely wants to have a kidney and be able to be removed from dialysis. And she seems ready to go. She's doing very well. Probably better than most people had expected her to do at this point."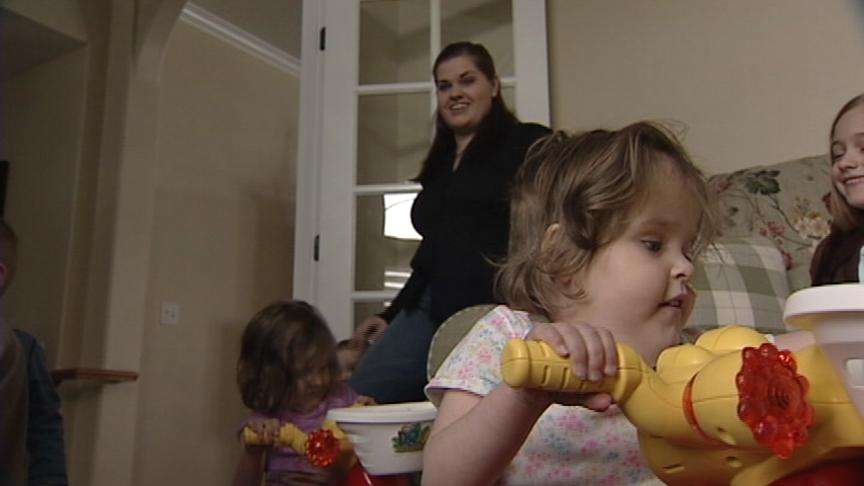 In a briefing for reporters today, members of the surgical team say Erin Herrin will be in one room where a surgical team will remove her kidney. Then, in an adjoining room, another surgical team will transplant it into Maliyah.
Earlier today, Maliyah who's already been admitted to Primary Children's, told staffer Bonnie Midget, "I get my kidney tomorrow."
And apparently, it's not just Maliyah who's excited. Pediatric urologist Patrick Cartwright said, "About every five minutes, she interjected 'Maliyah is going to get a kidney,' so Kendra is psyched for her sister as well. So I think the whole family is ready."
"The space that's now available inside her for her intestines and kidney, her bladder, her liver and all her internal organs is smaller than the average person," said Dr. Rebecka Meyers. "I her mind, this operation makes her more like her sister. Her sister has a kidney. She lost her kidney when they were separated. Now she gets her kidney back, and she's very excited about the surgery."
Following separation last August, surgeons built Maliyah a new bladder. When she gets her new kidney tomorrow, more adjustments and reconstruction may be necessary.
Dr. John Sorensen explains, "The blood vessels and in particular, the urinary system, which the new kidney needs to drain into, is different that what you would normally find."
This transplant will take between four to eight hours, to complete reconstruction and positioning. If all goes well that new kidney should start functioning right away, certainly within the first 24 hours.
Barring any complications, Maliyah will remain in the hospital for one to two weeks. Mom will go home in three to five days.
×
Related links
Most recent Utah stories