Estimated read time: 2-3 minutes
This archived news story is available only for your personal, non-commercial use. Information in the story may be outdated or superseded by additional information. Reading or replaying the story in its archived form does not constitute a republication of the story.
Jed Boal Reporting A terrified woman calls 911 as a burglar breaks into her home early this morning. The homeowner called 911. "He's trying to get into the house. I don't know what he wants," she told dispatch. When asked if she knew the person trying to break in she said no. She stayed on the line until officers with the Salt Lake Sheriff's Department showed up and busted the man as he ransacked the home.
The crime itself is bold and portrays a serious community problem. More than a dozen deputies arrived in the Cottonwood Heights Neighborhood, but the sheriff was also on the job at 5:00 a.m. About the call, Salt Lake County Sheriff Jim Winder said, "...probably one of the more dangerous calls we could respond on."
A woman caring for two young grandchildren made the frantic call around 5:00 a.m. as a man broke into her Cottonwood Heights home. Winder believes the suspect was high on meth. "Just out of his gourd. He had first come to the door, knocked on the door. Had a brief conversation. She told him to go away." But he did not go away. In fact, according to the caller on the 911 tape, "He started banging on the door and yelling. He might have been trying to get in the basement door."
As the woman dialed 911, the burglar circled the house and broke in a basement window. Deputies arrived in about two minutes and arrested the man.
The sheriff told me, he tries to get out twice a month, on regular patrol shifts, last night happened to be a busy night. "The sergeants are running the shifts," he said. "If they need assistance, I'm there to assist."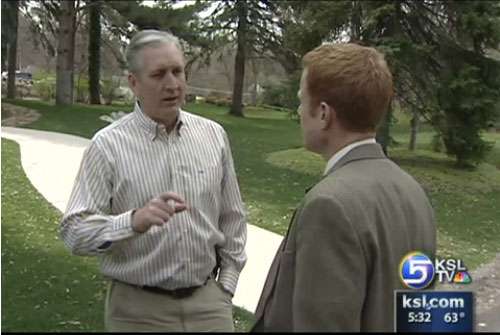 The 22-year department veteran says he also tries to work the jail once a month. The sheriff says the patrols give him a lot of insight on the resources his office can deploy. Winder explains, "Guys have a lot of questions about where we are as an organization. You get a chance to pull up, have a cup of coffee, talk to the guys, and as the calls come, you get the added bonus of responding on the calls."
Winder's predecessor, Aaron Kinnard, lost the November election. KSL investigative reports revealed he logged a lot of time playing golf.
The burglary suspect faces serious charges.
×
Most recent Utah stories