This archived news story is available only for your personal, non-commercial use. Information in the story may be outdated or superseded by additional information. Reading or replaying the story in its archived form does not constitute a republication of the story.
SALT LAKE CITY -- After 25 years on death row, 49-year-old Ronnie Lee Gardner will face a firing squad June 18th. A judge signed the death warrant Friday morning.
---
Gardner is one of at least four of 10 men on Utah's death row who have said they wanted to die by firing squad.
---
The judge's rulingJudge Reese told the court that after hearing the arguments presented, he could find no legal reason not to sign the execution warrant. He also told Gardner all his avenues for appeal had been exhausted.
"In some regards, he may have expected that," said defense attorney Andrew Parnes. "This is the fourth warrant that has been signed for him."
Deseret News:
Gardner was given the choice of being killed by lethal injection or shot by a five-man team of executioners firing from a set of matched rifles. When asked about the manner of execution, Garner said, "I would like the firing squad please."
Gardner was sentenced to death in 1985 for the Salt Lake City courthouse slaying of attorney Michael Burdell during a failed escape attempt and shootout at the old Metropolitan Hall of Justice in downtown Salt Lake City on April 2, 1985.
Although he was handcuffed and surrounded by prison guards, a female acquaintance slipped Gardner a loaded, long-barreled .22-caliber handgun in the basement of the building just before the shooting. He shot Burdell in the head, wounded a court bailiff and was himself shot in the right shoulder before being captured on the courthouse lawn as he tried to flee.
He would be the first death row inmate executed since Joseph Mitchell Parsons died by lethal injection in 1999. Gardner is one of at least four of 10 men on Utah's death row who have said they want to die by firing squad.
Defense made several arguments against execution
Related:
The judge's decision came despite arguments from defense attorneys who said Gardner's rights were violated and that he was the only death row inmate who didn't receive funding for death row counselor experts.
They also argued mitigating evidence presented in federal court years later would have influenced a jury to not choose the death penalty and that executing Gardner after so many years is cruel and unusual punishment.
The judge heard a videotaped statement from the victim's father, who said his son would not want Gardner to be put to death. The victim's then-girlfriend said the same thing in court.
"If Ronnie Lee would have just wounded him and Michael would have lived, he would have defended Ronnie Lee," said Donna Nu.
Defense plans its next move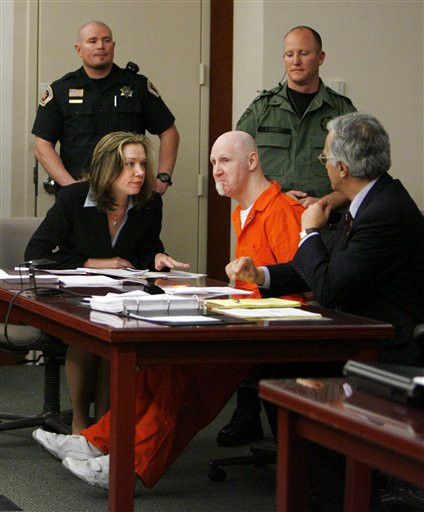 Though the execution warrant has been signed, defense attorneys still have a few ways to fight it.
"We put most of the authority for stays in the executive branch and the board of pardons," explains criminal defense attorney Ron Yengich.
Yengich is not involved with this case, but he says defense lawyers can continue to press for more hearings if they feel certain arguments have not been presented before.
"If they find something that they believe to be legitimate for the purpose of the stay, [they can] ask a court of competent jurisdiction to stay the execution," he says.
But the judge would have to decide that there is enough evidence for any hearing before the stay is granted. Yengich says Gardner's attorneys have another option.
"They have the right to petition the board of pardons for a pardon and have a hearing before them for the purpose of clemency," he says. "That's always been the case in the state of Utah."
Gardner's attorney says an appeal is planned.
"We're certainly closer than ever before, but we're hopeful the court will issue a stay. If not this court, the Utah Supreme Court," Parnes said.
Reaction to execution order
Related:
Utah Attorney General Mark Shurtleff says justice has been served in the case.
"The bottom line is, as the judge stated, the appellate process is done, and it's time to execute judgment in the case," Shurtleff said.
Death penalty opponents rallied at the courthouse during the Gardner hearing. Members of Utahns for Alternatives to the Death Penalty gathered to call for an end to the use of capital punishment in the state.
"We believe in 'thou shalt not kill.' You can't believe nine commandments and leave out one," said Grandma Ruby, a death penalty opponent.
They argue the death penalty isn't cost efficient, doesn't deter crime and risks an innocent person being put to death.
The group is made up of dozens of religious leaders for numerous denominations from across the state.
-----
Story compiled with contributions from Sandra Yi, Paul Nelson, Jed Boal and The Associated Press.
×
Related Stories