Estimated read time: 1-2 minutes
This archived news story is available only for your personal, non-commercial use. Information in the story may be outdated or superseded by additional information. Reading or replaying the story in its archived form does not constitute a republication of the story.
Gene Kennedy Reporting Saratoga Springs will have its first high school in a couple of years. Town officials say building the school is a necessity because that part of Utah County is booming.
The school may offer some recreational options for residents. There's talk of a third gym and an additional library at the high school intended for use by residents.
Alpine School District supports that idea, but the city must decide if it can afford it. So those parts of the plan are undecided for now.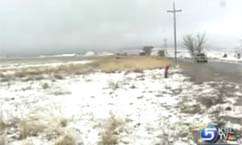 But the plan for the high school itself moved forward this week. The city council in Saratoga Springs unanimously approved the new $41-million building.
Assistant Superintendent for the Alpine School District, Rob Smith said, "[It's] exciting, absolutely. Any time you build a new high school it's exciting. We're excited to serve the students, the parents, the community out there."
They hope to break ground next month and open the school by fall 2009. The new school would accommodate 1,800 students who currently attend Lehi High School.
The 300,000-square-foot building will be located close to Utah Lake just west of Redwood Road.
There's talk of building a junior high and elementary school in Saratoga Springs in a couple of years, as this part of Utah County continues to grow quickly.
×
Most recent Utah stories