Estimated read time: 6-7 minutes
This archived news story is available only for your personal, non-commercial use. Information in the story may be outdated or superseded by additional information. Reading or replaying the story in its archived form does not constitute a republication of the story.
BAGHDAD, Iraq (AP) -- Suicide bombers struck the Red Cross headquarters and three police stations across Baghdad on Monday, killing about 40 people and injuring more than 200 in a coordinated terror spree that stunned the Iraqi capital on the first day of the Islamic holy month of fasting, Ramadan.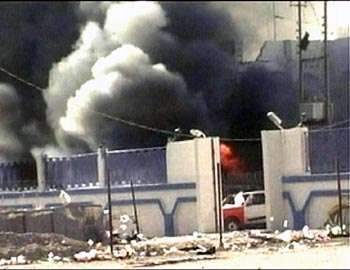 The string of car bombings, all within about 45 minutes, was the bloodiest episode yet in the city of 5 million by insurgents targeting the American-led occupation and those perceived as working with it.
It also appeared to mark a dramatic escalation in tactics, suggesting a level of organization U.S. officials had doubted the resistance possessed. In past weeks, bombers have carried out heavy suicide bombings but in single strikes.
President Bush said progress in Iraq is making insurgents more "desperate" and fueling attacks.
Sitting next to civilian U.S. Iraqi administrator L. Paul Bremer in the Oval Office, Bush said he remains "even more determined to work with the Iraqi people" to restore peace and civility to the wartorn nation.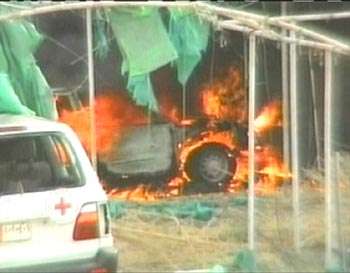 At the Pentagon, officials described the two days of violence as a significant spike in attacks that showed some level of coordination -- though how much was still unclear.
It also remained unclear who was responsible for the attacks. Defense officials said they believe loyalists of fallen Iraqi President Saddam Hussein were responsible for the wave of bombings.
But Iraqi police Brig. Gen. Ahmed Ibrahim, the deputy interior minister, blamed foreign fighters for the assault, saying a fifth, aborted car bombing was attempted by a man captured with a Syrian passport.
"Some countries, unfortunately, are trying to send people to conduct attacks," he said, without naming those nations.
That fifth bomber was kept by officers from detonating his Land Cruiser at a station in the "New Baghdad" district. "He was shouting, `Death to the Iraqi police! You're collaborators!"' said police Sgt. Ahmed Abdel Sattar.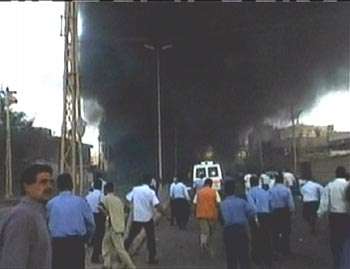 One American soldier was killed in one of the police station attacks and six U.S. troops were wounded, the military said. Ibrahim put the Iraqi death toll at 34, including 26 civilians and eight police but not the attackers.
The bombings came hours after clashes around Baghdad killed three U.S. soldiers overnight, and a day after insurgents hit a hotel full of U.S. occupation officials with a barrage of rockets, killing a U.S. colonel and wounding 18 other people. U.S. Deputy Defense Secretary Paul Wolfowitz was in the hotel, but was unhurt.
"We feel helpless when see this," a distraught Iraqi doctor said at the devastated Red Cross offices. The Red Cross said 12 Iraqis were killed at its office, including two employees.
Baghdad's al Baya'a police station in the al-Doura neighborhood saw the most deaths, reportedly 15 including the American. Since Bush declared an end to major combat in Iraq on May 1, 113 U.S. soldiers have been killed by hostile fire.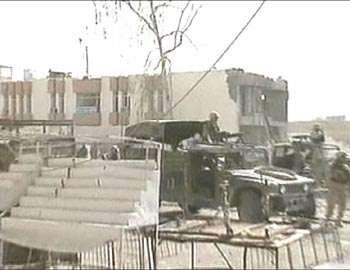 In Fallujah, 40 miles west of Baghdad, witnesses said American troops opened fire, killing at least four Iraqi civilians, after a roadside bomb exploded as a U.S. military convoy passed. The U.S. command did not immediately confirm the incident.
At the offices of the International Committee of the Red Cross in central Baghdad, witnesses said a suicide bomber drove an explosives-packed vehicle, apparently an ambulance, right up to security barriers outside the building at about 8:30 a.m. The vehicle detonated, blowing down the Red Cross's front wall, devastating the interior and blowing shrapnel and debris over a wide area.
Then, in quick succession, explosions went off at the al-Baya'a, al-Shaab and al-Khadra police stations. Ambulances, sirens wailing, crisscrossed the city all morning.
"From what our indications are, none of those bombers got close to the target," U.S. Brig. Gen. Mark Hertling said. But the explosions outside police stations left streetscapes of broken, bloody bodies and twisted, burning automobiles.
Later Monday, an Iraqi Civil Defense Corps building in Mosul was attacked by grenades and Kalashnikov rifles, according to Iraqi officials. There were no casualties.
Hertling said he believed the attacks may have been timed with the start of Ramadan to heighten tensions during the fasting month, when Muslims abstain from food and drink during daylight ho urs.
Near the three-story ICRC building, cigarette vendor Ghani Khadim, 50, said he saw an Iraqi ambulance approach the small compound some 100 yards away. The explosion blew out windows and injured his wife and daughter in his house behind his stand, he said.
The vehicle had stopped some 60 feet in front of the Red Cross headquarters, "at a line of barrels we have had in front to protect the building," one Red Cross employee, who would not give his name.
The blast knocked down a 40-foot section of the ICRC front wall, demolished a dozen cars and apparently broke a water main, flooding the streets.
The inside of the building was heavily damaged, littered with shattered glass, doors blown off their hinges, toppled bookcases and collapsed ceilings. A gaping crack had opened in a back wall, some 100 yards from the blast site, where a crater some five yards across quickly filled with water.
The Red Cross staff member said someone began firing off an automatic weapon immediately after the explosion -- "100 bullets or more." He said he believed it was a gunmen somehow associated with the bomber "who wanted to scare people more."
ICRC staffers said about 25 people were present at the offices at 8:30 a.m.
"Of course we don't understand why somebody would attack the Red Cross," Red Cross spokeswoman Nada Doumani said. "The Red Cross has operated in this country since 1980, and we have not been involved in politics."
In Geneva, Red Cross spokesman Florian Westphal said the ICRC had disclosed in August that it had received warnings of a threat and had been reducing its staff since a Sri Lankan staffer was killed July 22 south of Baghdad.
"It's a big shock," Westphal said. "It is obviously impossible to move onto a normal day's business, so we really have to step back and take stock."
Two buildings away, the explosion devastated the interior of the Al-Nawal private polyclinic operated by Dr. Jamal F. Massa, 53, who had been planning to open it as a full-fledged hospital next month.
"We feel helpless when we see this," he said. He said he couldn't understand why the Red Cross was targeted. "This only hurts guards and other Iraqis."
The Red Cross and other international aid organizations had reduced their Baghdad staffs after the car bombing of U.N. headquarters Aug. 19, in which 23 people died.
Mouwafak al-Rabii, a Shiite Muslim member of the U.S.-appointed Iraqi Governing Council, said the United States must speed up the training of Iraqi police and soldiers and employ ruthless measures to crush the insurgency.
"There is no doubt about it that we need to change the rules of engagement with these people," al-Rabii told CNN. "The rules of engagement now are too lenient."
The rocket attack Sunday struck the Al-Rasheed Hotel, where Wolfowitz was staying at the end of a three-day Iraq visit.
The deputy defense secretary said that attack "will not deter us from completing our mission" in Iraq. But the bold blow at the heart of the American presence here clearly rattled U.S. confidence that it is defeating Iraq's shadowy insurgents.
(Copyright 2003 by The Associated Press. All Rights Reserved.)
×
Most recent News stories