Estimated read time: 2-3 minutes
This archived news story is available only for your personal, non-commercial use. Information in the story may be outdated or superseded by additional information. Reading or replaying the story in its archived form does not constitute a republication of the story.
Sandra Yi Reporting A family with eight children that lost their home in a fire is still counting their blessings. The fire began around 7:00 last night and destroyed the house before firefighters could put it out. "The good thing is my children weren't here; that's the good thing about it," said homeowner Sela Brown.
Fire investigators believe the fire started in the garage and the car may have had something to do with it. Ten people were living in the home. The homeowner told me all that matters is they're safe. Brown said, "It's a shock. I can't we can't even believe it just can't believe this."
The day after fire destroyed their home Sela Brown brought some of her kids to see what was left of it. "They don't have anything. Everything is totaled, it's gone," Brown said. Last night flames and thick smoke filled the home and spread fast.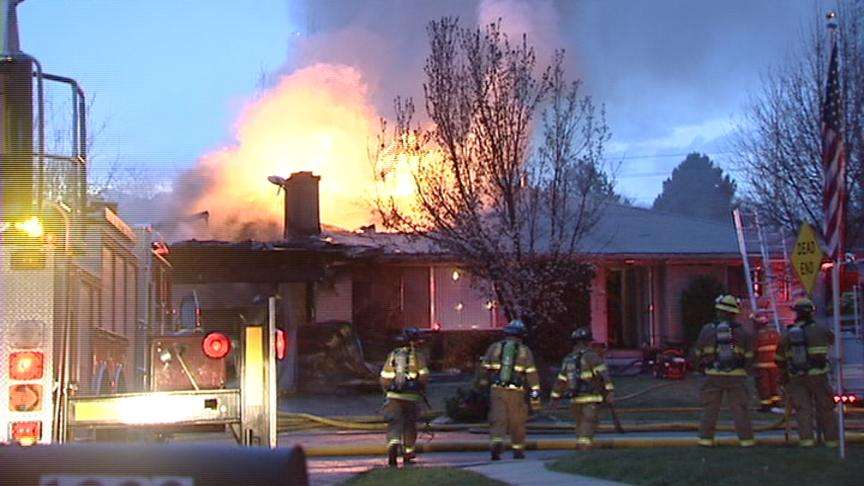 Moments before neighbors heard an explosion. Neighbor Paul Bambrough said, "Within five minutes the garage was totally engulfed with flames leaping 10 to 15 feet into the air." Ann Bambrough added, "The heat the heat was incredible."
The homeowner's sister was the only one inside. "She didn't even know what was going on until people started pounding on the doors," Brown said. "My neighbors we have such great neighbors."
Brown says they were having car trouble and her husband fixed a fuse for the blinkers. They left the car in the garage while the family went out. Brown, who works for a foster agency, has five biological children and three foster kids. She and her husband moved in last year because the home had more room for their big family. Now they have to rebuild. They're just grateful the entire family can do it together. "The good thing about the whole thing is my kids are good and they're healthy and we weren't here so I'm happy," Brown said.
The Red Cross put the family up in a hotel last night and they'll stay in a hotel again tonight. Anyone interested in helping the family financially, is asked to contribute to a fund setup at any Zions Bank, under the name David Brown.
Fire investigators say this fire was accidental. They have turned their investigation over to the insurance company.
×
Photos
Most recent Utah stories