Estimated read time: 2-3 minutes
This archived news story is available only for your personal, non-commercial use. Information in the story may be outdated or superseded by additional information. Reading or replaying the story in its archived form does not constitute a republication of the story.
SALT LAKE CITY -- In the past few years, the Salt Lake County District Attorney's Office has seen a growing number of crimes against elderly adults in Utah. Now the agency has a way to stop those responsible.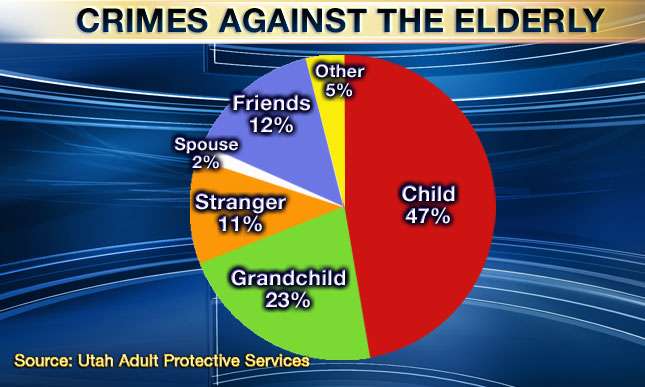 A newly-formed task force with the district attorney's office focuses on crimes against elderly and venerable adults.
We're seeing shocking cases more often in news headlines: a son who tried to strangle his elderly landlord; a grandson stealing $70,000 from his blind grandmother. Yet, the district attorney's office says this is one of the most under-reported crimes in Utah.
In mid-January, the agency formed a task force targeting elder and vulnerable adult abuse. Right now, it's comprised of five attorneys, an investigator, paralegals and secretaries who meet once a week.
Signs of elderly abuse
• Unexplained bruises or welts
• Multiple bruises in various stages of healing
• Unexplained fractures, abrasions, and lacerations
• Multiple injuries
• Low self-esteem or loss of self-determination
• Withdrawn, passive
• Fearful
State of Utah, Adult Protective Services
They say a shocking number of crimes are committed by those expected to protect the elderly.
"Some caretakers, I simply have no excuses for. They're abusive. They're neglectful. There's no excuse for their conduct, and those are the more significant types of criminal activity that our team is interested in pursuing," says Alicia Cook, spokeswoman for the Salt Lake County District Attorney's Office.
Signs of exploitation
• Disappearance of possessions
• Forced to sell house or change one's will
• Overcharged for home repairs
• Inadequate living environment
• Unable to afford social activities
• Forced to sign over control of finances
• No money for food or clothing
State of Utah, Adult Protective Services
Financial crimes against the elderly are also spiking. The majority of the time, those committing the crimes are related to the victims. Children account for 47 percent of perpetrators; grandchildren, 23 percent; and strangers, just 11 percent.
"The children feel entitled. They want their inheritance. They want their piece of it," Cook says.
The task force just finished their first trial, and got their first guilty verdict. Jeffery Malin, 46, was charged with attempted murder for trying to strangle his elderly mother with an electrical cord. He also beat his brother, who intervened, with an axe handle.
Prosecutors hope the verdict in this case, and in future cases, sends a clear message that elder abuse will not be tolerated.
E-mail: sdallof@ksl.com
×
Related links
Related stories
Most recent Utah stories