Estimated read time: 2-3 minutes
This archived news story is available only for your personal, non-commercial use. Information in the story may be outdated or superseded by additional information. Reading or replaying the story in its archived form does not constitute a republication of the story.
Shelley Osterloh Reporting Three Utah companies have combined ideas to create an award-winning package for a product that's been around for more than a hundred years.
The Utah company Sweet Candy has been producing sweet treats for 115 years. It is the biggest manufacturer of salt water taffy in the country. Now it is considered one of the most innovative, all because of a new packaging concept called the Taffy Twist Box. The new box is shaped like a bite of taffy.
The Sweet Candy company's 180,000-square-foot production plant turns out about 400 pieces of fresh taffy a minute. Vice President Rachel Sweet said, "I don't think the recipe or the method has changed for over a hundred years."
Rachel Sweet is a fourth-generation candy maker. Her great-grandfather, Leon, and grandpa, Jack, came up with the recipe. Her cousin, Rick Kay, is the new president of the family-owned business. "We've made salt water taffy for decades and decades, and we are the largest salt water taffy maker in the country," Kay told KSL. "We know we make the best salt water taffy in the country. All right, what do you do from there?"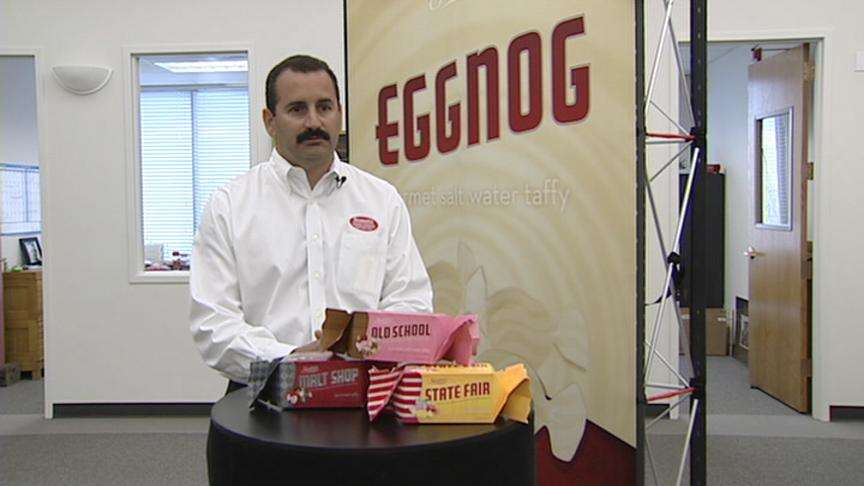 They came up with the idea of a box shaped like taffy and went to Utah Box with the idea. They've done business with them for 80 years. The Utah design company, called Struck, designed the graphics after studying some of the old candy box designs. They added high-end embossing to the clever design, and the end product is an industry winner. Design director of Struck, Peder Singleton, told KSL, "It's been an award-winning piece in the packaging industry, the design industry and the candy industry, and it's given the consumer something fun to buy that they've been happy to buy."
The old classic candy has a new look that is now sold in high-end boutiques, bookstores and department stores. And while the machines still twist out good-old taffy, the packaging is giving a new twist to the old favorite and new life to a long-time Utah company. Each box has a theme, which has led to new flavor combinations. Now there are more than 50 flavors.
It's one company that welcomes visitors, and there are tours by appointment. Each year about 20,000 people see the plant. For more information, visit the link on the right.
×
Photos
Related links
Most recent Utah stories